We like to call Sea Otter bicycling's Candyland because of all the cool gear on display and available for demo. There's a reason Sea Otter calls itself the world's premier bike festival. Where else can you find so much of the latest and greatest under one figurative roof, in addition to top racing competitions and stunt pits?
It's impossible to anticipate all the new stuff that will be at Sea Otter. But here's some we'll be on the lookout for:
1. Smith Forefront helmet. Bike helmet technology hasn't changed much since Giro technologists showed how a "soft shell" styro lid offered head protection comparable to a hardshell under ANSI standards. That was nearly 30 years ago. The Forefront offers a claimed 30 percent greater protection by using a green honeycomb Koroyd material layered with EPS under a polycarb shell.
It all comes at a cost — $220 msrp — and Pinkbike found the weight savings weren't as dramatic as claimed. But we're intrigued to take a look ourselves. Smith hasn't always had a booth at Sea Otter, but it will this year.
2. Phat carbon wheels. The trend in carbon is for wider rims — partly to address "burping" (tire separation on hard landing or cornering), and partly to add stability and control to carbon's inherent stiffness. Especially for larger 27.5 and 29-inch rims, width becomes a crucial factor for handling. You can run lower pressure, increasing traction. And you have a larger footprint for cornering and off-camber landing. Riders we've talked to who have extra-wides say they really add confidence to air time and technical sections.
The best part is: By tweaking spoke mounts and other factors, manufacturers say extra-wides do not add weight. For standard aluminum rims, weight was always the drawback to expanding width.
Some wheel sets we hope to see include Derby (a whopping 35mm and 40mm for 27.5 and 29-inch rims, respectively), Nox Composites (27.5 for AM wheels) and Stan's carbon Valor (we haven't been able to get specs on width, but Stan's website mentions rim width as a feature). Of the three, only Stan's is listed as having an actual booth at Sea Otter — where we're hoping to see actual Valors since Stan's announced them way back in August (Stan's website still says only "Coming in 2014"). As for the other two, we're hoping for a booth-share or that they'll turn up on vendor or even demo bikes.
3. Long travel 29ers. There's a curious phenomenon going on in the bigger-wheel segment featuring one bike and one bike only. It's the Specialized S-works Enduro carbon 29er. The bike (and similar less expensive offshoots from Spesh) keeps getting rave reviews, even taking top honors from MTBR.com's exhaustive "Enduro Compare-O" ratings recently. And here we all thought "enduro" was the exclusive domain of 27.5 models.
What separates the Specialized offerings is long travel in a 29er package — 160mm front, 155mm rear, 27.3 lbs in a large. The package makes sense to us, particularly with the aforementioned trend toward wider carbon wheels. That said, where are other vendors in LT 29?
Geometric challenges in chain stay length may be stymying other manufacturers. But for how long, given the spectacular reception of Specialized models? Hopefully some other top-flight, innovative bike makers (for example, Pivot Cycles) will enter this market segment, if only to provide a suspension alternative to Spesh.
4. E-stuff. Bosch, the German car parts maker, will be showing a fleet of e-mountain bikes. We've never been drawn to e-bikes but as electronics get sleeker, they're getting closer to making sense. And the Bosch bikes have a feature we like: The electric part doesn't kick in unless you're pedaling. Not that we're purist, but the must-pedal seems closer to "real" cycling.
Fellow countrymen from Magura will show its eLECT rear shock setup, and e-shocks from Rockshox and Fox undoubtedly will be kicking around too.
The e-components stuff has been slow to catch on (to put it mildly), and we were amused recently to see BIKE magazine experts stumble all over themselves trying to say Rockshox's system doesn't suck. But it's all a work in progress, and one we will continue to watch with interest.
5. Rockshox RS-1 inverted fork. We're not sure what to make of the hoo-hah over the first-rumored, then-confirmed RS-1, with its upside-down stanchions, carbon steerer and uppers, and remote lockout.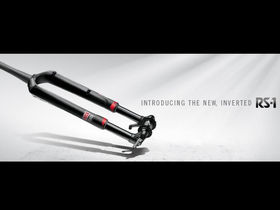 Rockshox has not confirmed the amount of travel, although it looks very short in the teaser photos. Nor the weight, although it's bound to be crazy light. The RS-1 is undoubtedly aimed at the XC crowd, and probably the racer set beyond that, since stanchions don't take kindly to rocky terrain that is going to chip and score them. Hopefully there will be models on hand at Sea Otter with stat and usage confirmations.
6. Intense T275. Intense's new carbon Tracer was previewed by bike journos back in January and announced publicly last week to a blitzkrieg of reviews. Tipping (barely) the scales at 5.7 pounds, the 27.5 carbon frame looks spectacular — from the photos at least. We're hoping to drool over and demo the real thing at Sea Otter.
7. POV cameras. Shimano has said it won't be releasing its new action cam till May, but we still hope to see some units floating around at Sea Otter. We'll also be checking out the GoPro booth for the latest from the market leader. GoPro has filed for an IPO and is in the "quiet period," meaning it can't talk about that or things related. But it may offer some clues in other ways about why it's pursuing an IPO (typically to raise money for expansion or some big new product).
Even if nothing is revealed, the GoPro booth is typically the most energetic at Sea Otter. Hope to see y'all there!