At the Sea Otter Classic 2013 we had an opportunity to test ride two new 27.5 bikes: the carbon Bronson — Santa Cruz Bicycles' latest and one of the showcase bikes of Otter this year — and the Pivot Firebird, modified for 27.5 setup and announced opening day at the festival.
[Note we use the term "shootout" advisedly, given our limited time on the bikes. This was more bb gun than OK Corral.]
At 26 to 27 pounds for 150mm of travel, the Bronson build was impressive, including ENVE wheels and Maxxis Hi Roller tires along with full XTR. Our bike had a 2×10 drivetrain, although the Santa Cruz booth was displaying the same build with a XX1 (1×11) drivetrain on a Medium it said tipped the scales at 26.5 lbs.
We admittedly couldn't stretch the Bronson out on Laguna Seca's fairly docile singletrack. But the ride was long enough to tell us a couple of things.
The geometry of the Bronson — 67 head, 73 seat angle on a Large — felt a little more upright than we'd like. This is a personal preference of course, but we didn't feel like the Bronson would be at its best riding aggro, mountain bike park or downhill. It felt closer to an XC bike. Perhaps that's the crowd Santa Cruz is aiming at, although the aggressive tires indicated otherwise.
The bike climbed better than a 26-er but not nearly as well as a 29er. It felt as you'd expect, a compromise between the two. Although to our mind it was closer to the 26-inch experience than the 29-inch.
On downhill stretches, particularly fast sections, we wanted more travel out of the Bronson. Weirdly — and this could be related to suspension, the geometry, the amount of travel or just our own head games — we're wondering if the 27.5 category isn't better suited to longer travel. Just throwing that out there. It's not a theory we found support for among a few 27.5 riders we interviewed. But to a rider, they were in the 5-8 to 5-10 height range. We run 6-0 and have long monkey arms.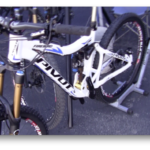 To confirm our theory, the Pivot Firebird 27.5 felt more comfortable to us. You sink down in the 6.6-inches of travel as with the conventional Firebird. But the bigger hoops and slacker angles (66 degrees via a Pivot custom angled headset on a Large, 71.5 seat angle) give you a new dimension of versatility, speed and handling. For a taller rider, the Firebird 27.5 actually adds a noticeable degree of stability and centered-ness.
This all held true despite the Firebird being heavier, at 31.5 pounds, and aluminum, not as responsive as carbon. But neither of those factors count for much when you point the rig downhill.
The caveat being that we only rode the thing briefly around the midway, doing mostly stutter stops and starts, wheelies and track stands. Having lots of fun, but hardly testing it. Pivot did not have a build ready to take out on the trails. (Pivot offers an extensive demo program and expects to have Firebird 27.5s ready to roll in mid-May.)
With all that said, we admit to not quite getting the 27.5 category. It feels like half a loaf. If you want the advantages of a larger platform, why not go to 29? The only rationale that makes sense to us is rider height. There may be a sweet spot where 27.5 is just right for the shorter among us who find 29ers too angular. For someone our height, it may not be dramatic enough to warrant the commitment to a whole platform.
For another view on the Bronson, check out Francis' take on MTBR.com. Francis found more plushness to the Bronson than we did. It's also worth noting he's 5-8. But he had considerable more time on the Bronson than we did, and puts it in the context of other 27.5 (650b) bikes. (It omits the Firebird, however, having been written before the 27.5's release.)