The brutally cold and sunless spring in the Pacific Northwest has given way to an uncomfortably chilly and sun-deprived summer, leaving our favorite high-country mountain bike rides under piles of snow.
We recently explored the Leavenworth area, home of the Wenatchee National Forest and environs — and subject of the new land-use mtb movie, "Pedal Driven" — and found all but one epic ride still socked in. Not that heavy rain and chilly overcast weather would have been conducive to all-day back-country trekking anyway…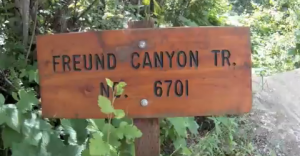 Fortunately the cross-country race loop at Freund Canyon was open and dry. We had a great time doing it backwards, forwards and upside down, running into trail brushers and a family from Duvall in the process. We loved the kid with the 29er doing wheelies all over the clearing at the top.
Although it's difficult to pick up on the video, there are lots of moderate jumps on the way down that make for a rollicking time. You can ride up either side of the canyon but our preference is to do a counter-clockwise configuration because of a long fire-road connector (a lot of hard-earned elevation to lose in the opposite direction).
There always seem to be other riders and hikers on the trail, it's close to town, and most importantly it's open when the big rides aren't. We'll hope for clearing asap in the Mad Lake-Klone Peak region, but till then Freund Canyon (and Mission Ridge/Devils Gulch to the east) will have to suffice.