One of the SF Bike Expo 2010's highlights for us on Saturday was visiting the Seattle-based Velo Transit booth manned by founder Paul Larson and his wife, Bobby.
Velo Transit makes tough, durable but stylish packs for cyclists. They're big-mouthed and yet nicely tapered for better stability and feel on the back (also sight clearance for cyclists checking over their shoulder). They're also light, despite having a completely waterproof liner and ballistics-grade materials.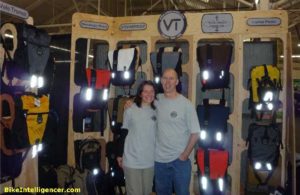 These are big pluses to inveterate cyclo-packers like us. We have a Sultan — Chrome's biggest, baddest pack (apparently no longer available) — that we use around town and that will eat entire grocery carts for breakfast. But it's quite heavy, bulky and unwieldy even when empty. We like the way Velo Transit's packs slip effortlessly on and off as a t-shirt. A lot of ergonomic thinking went into the design of these packs.
Larson explained that the weight savings comes not just from tapering but also from using a lighter weight liner than conventional polyvinyl. Plus there's no stitching with Velo Transit — seams are RF (radio frequency) welded — which also creates a more waterproof bond.
Gender-specific harnesses add to Velo Transit's versatility, as well as the option of longer packs for taller or long-torsoed riders (we're guilty on that count too).
Some other nice touches we like:
Reflective stripes. Packs cover up reflective triangles and clothing, so it makes eminent sense for the packs themselves to carry striping.
Blinker mount, side stash pockets and front triple-pouch pocket. We like pockets. Too many packs either go way overboard or lack enough. Velo Transit gets it right.
Stability straps for side and shoulder compression. Especially important when you ride a lot in traffic and don't want your pack shifting all over.
Padded straps and back molding. They keep the pack comfortable and permit ventilation for your back.
Laptop pouch. It comes with a nice Velcro setup to keep the computer from flopping around. It's also completely removable for carry-along in other packs, and has padding as well.
We also like the color options Velo Transit offers, including cheery orange, yellow and red as well as the muted options like sand, gray and blue.
The packs aren't cheap, running in the $150 to $180 range. But aimed at commuters, bike couriers and core riders, they're priced competitively given the quality of workmanship and lifetime warranty.
Finally, VT packs are MADE IN THE USA (Seattle, actually). It's great to see a local company using local supplies to put out a superior product.
You can order VT packs off the Web but if you're in Seattle, drop by their shop at 815 Airport Way S. You can see all the packs, get properly fitted, and have a great chat with Paul and Bobby. Although Larson is an industry veteran, Velo Transit has only been around since last spring. But its attention to detail and innovative design touches promise a lasting niche in the pack market.