[Note: In their farewell ride to the high country for what turned out to be a grand 2010 of epics, our sanity-challenged duo decides to spread its wings a bit and pays the price with a passel of hassle.]
Day One: North Twentymile Creek Grind
Sometimes you have to try something new even when common sense militates against it. That was the scenario for Team Mojo's recent foray to the Methow Valley. For our final high-country epics of the season we wanted to explore new ground and complete some unfinished business. Our destinations: Twentymile Creek and Falls Creek/8 Mile Ridge — both up Chewuch Road north of town. For the capper we'd do Sun Mountain's bevy of loops — the old race course.
Winthrop really is a curiously unheralded gem. Once the state's mountain-biking mecca — back in the days before freeriding and mountain bike parks began dominating the scene — the region has never gotten the marquee photo or writeup treatments in the bike mags or the attention it deserved on the rider circuit. But for rugged, spectacular, above-the-timberline cross-country mountain biking, Winthrop is right up there with the more publicized mtb destinations.
A group of clued-in locals are trying to reboot Winthrop with a nod to what Oregon's once-similarly-underappreciated town of Oakridge has done. Oakridge's "Mountain Bike Oregon" festival is drawing raves and making the town a prime destination. Winthrop has all the terrain and tools necessary to pull off a similar campaign; all that's needed is leadership and some elbow grease from the Methow Valley denizens.
Stoked to cap off a great great 2010, Team Mojo was blessed with the best weather this late in the year that we can remember. Sunny, mid-70s, balmy at night. Having been rained on in days previous, the trails were tamped down and tacky — really perfect for riding.
On the way into town we stopped in at Joe Brown's new Methow Valley Cycle and Sport digs right before the barn on Highway 20. You can't miss it, and it's worth a stop if for no other reason than to take the Surly Pugsley — with its morbidly obese 4.0 tires and low-rider geometry — for a test ride around the parking lot. It's a perfect snowmobike or sandmobile. Other than that, it's just something completely different to ride.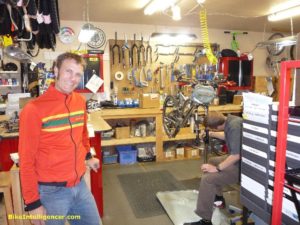 Joe's recommendation was Horsehead Pass-Foggy Dew, a monster circuit with a blazing downhill that unfortunately pretty much requires a shuttle. Since we had access to only a single vehicle, Jim's CR-V, that was out. But we've done the Horsehead Pass loop (up Martin Creek Trail to Cooney Lake, over Angels Staircase, around Boiling Lake and back down Eagle Creek Trail) numerous times and were more up for exploring some untrammeled stuff.
We asked Joe about Falls Creek and North Twentymile Creek, the latter the scene of the tragic forest fire a few years ago. He kind of hemmed and hawed and tried to warn us off — not much trail maintenance up there, lots of blowdowns — but would we listen? No way. We hadn't come 198 miles from Seattle to be influenced by common sense.
After touring the Twisp farmers' market Saturday morning, an attraction we never miss given its $1 a pound apples and tomatoes and lots of fresh bakery items, we headed up West Chewuch to the Camp Four campground, turning right over a bridge onto Road 700, then left on 740 to park at the North Twentymile Creek trailhead. There's actually a sign at the trailhead, and be sure to pay it some respect. It's the only sign you'll see on the whole ride.
Like I say, Joe had tried to warn us.
The lower trail is climbable and quite pleasant. You ride the ridge above Honeymoon Creek and have respectable views to the west. It's rocky in places but the trail is in pretty good shape.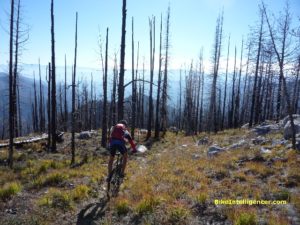 Alas, things don't stay that way. After a couple of fairly benign miles, it all goes sideways in a hurry. We started running into blowdowns every 100 yards or so, several of which we managed to clear with our own gloved hands. But some we couldn't and just skirted. Further up we encountered some nasty switchbacks, made all the more unpleasant by boggy drainage. We even ran into a three-foot culvert. God knows how it got that high up on the ridge.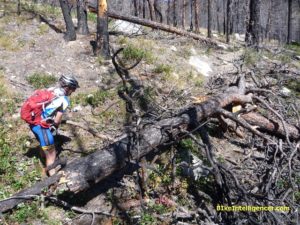 Bottom line: The trail had turned completely unrideable. But we slogged on. After a mile or so, lo and behold, things took a turn for the better. Literally. The switchbacks got rideable, the slope got more friendly. We were close to topping out. Up here the fire damage was more noticeable, but despite it all the trail was recovering and vegetation making a nice comeback.
Near the top I checked my iPhone and MotionX-GPS tracking software. We'd gained 4,000 feet in just over 4 miles. If you've ever climbed 1,000 feet in just one mile, you know what real pain is. We'd done it four times over — average speed, including trail clearing, 1.2 miles an hour.

The day was drawing short as we rounded the pass and got sight of the North Twentymile Peak Lookout, so close it seemed we could reach out and grab it. We debated whether to do the additional 500 feet of climbing, and then something completely out of the blue happened. I got a phone call from my wife in Winthrop.
You're up around 7,000 feet, you can't see any signs of civilization anywhere, the wind is whipping around and the mountain is stone quiet, and you think hey, isn't this great. Far away from computers and email and calls. Then the phone rings.


Cecile wanted to know if we could make it back in time to see friends at 6:30 p.m. Well yes, we could. But it would mean missing the lookout station. Which I was fine with, I guess. I mean, I've seen a lot of lookout stations all up and down the West Coast, and let's face it: There's not a lot of architectural variance. Or even depth. But I hadn't seen this particular lookout station, and I knew if I turned back I probably never would. Ah well. There's always next year.
The ride back down turned out to be a real hoot. The upper stretches of trail were rocky, rooty and challenging while still offering a fair degree of speed and flow. The middle section forced dismounts of course, but at least it went a lot quicker going down than up.
As for the final couple of miles, they were a real rip. The closer we got to the trailhead, the higher the doubles became. Someone has put a bit of thought into the lower trail. It's a ton of fun. If I lived in Winthrop I'd go out there a couple of times a week just to do the lower section over and over.
We hated to miss the lookout, but we'll file it under unfinished business. The next day we had some more to attend to.
[Mileage: 8.6 / Elevation gain: 4,220 feet / Maximum grade: 22 degrees / Time: 5 hrs 14 mins.] North TwentyMile Creek Trail can be found on Green Trails Maps 52 and 20.
Day Two: Falls Creek/8 Mile Ridge and a world of hurt
Day Three: Revisiting a favorite — the Sun Mountain Race Loop