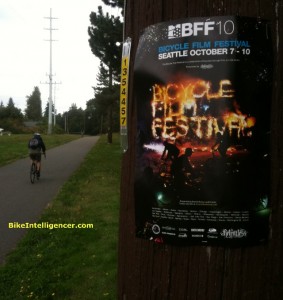 On the Interurban Trail heading north out of Seattle, someone took the time to decorate each and every telephone pole with the Bicycle Film Festival's colorful poster. You can't miss the big "BFF" lettering!
The festival runs Thursday through this weekend and should be a cinematic riot. Monsoon season is supposed to start Friday, so make plans for the second funnest thing to do indoors!
More info at the festival Web site.