Rodale Inc. has announced that it will no longer publish Mountain Bike magazine, one of the former Big Three of mountain biking publications whose doom was sealed when Rodale ended its publication as a standalone in 2003.
Rodale continued to offer Mountain Bike at the ludicrous and unsustainable rate of six issues a year — included with a subscription to Bicycling — but the publishing giant's heart was obviously never in it. It always seemed like a weak cousin to Bicycling, which we've never cared much for either.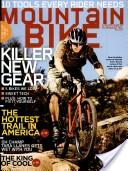 Rodale purchased the mag in 1987 and supported it well in its heyday during the 1990s. Mountain Bike had some great writers, including Zap (Zapata Espinoza) and Captain Dondo. Another favorite was Dan Koeppel and his long-running "Hug the Bunny" column.
Dondo moved on, Zap was fired, "Hug the Bunny" disappeared and Mountain Bike became simply a way to sucker mtb addicts like ourselves into subscribing to the lamentably bland Bicycling magazine.
Which means that Rodale's pledge to "fold the contents" of Mountain Bike into Bicycling is pretty much empty talk, similarly aimed at snagging mtbers into staying with Bicycling.
We doubt the ploy will work, particularly since we doubt its sincerity in the first place. Lesson No. 1 of publishing is that you can't get rid of the good writers and expect readers to hang around just for the ads.
Instead our suspicion is that Rodale has folded Mountain Bike simply because the magazine business is on its last legs. Our inbox just recorded an email from Rodale offering Bicycling at $5 a year for 11 issues. That smacks of desperation to us.
Mountain Bike lasted a quarter of a century and took us through the sport's salad days with literary acumen and grace. Its Rodale incarnation, albeit anemic and lackluster compared with its predecessor, will nonetheless be missed.
Further info from Bicycle Retailer.