Our introduction to the Methow Valley Bike Festival came nearly two decades ago, when we reveled in riding in mid-80s temps amid throngs of mountain bikers. The place was like a mini-Moab, crammed with vehicles sporting bikes and bristling with MTB culture.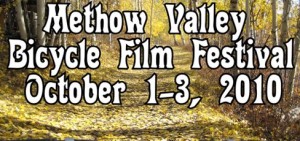 Over the years, the festival has thinned to the point of irrelevancy. Climate change took a big swipe out of its ranks — by the festival's traditional first weekend of October, the weather these days has become cold and inhospitable, with snow blocking many of the high-elevation epic routes above town. (Already snow has fallen at elevation this season, with more expected this weekend.)
This year, the sponsoring Methow Valley Sports Trail Association is adding a new wrinkle in hopes of breathing new life into the festival. October 1-3 will mark the first Methow Valley Bicycle Film Festival, and headlining the flicks will be the much-anticipated "Pedal-Driven" from Wenatchee film makers Howell at the Moon.
Officially they're calling this year's edition the "24th Annual Fall Bike and Film Festival," to distinguish it from spring and summer bike festivals at Winthrop — and to get the "film" part in there. While there actually are other bike events, including racing, in Winthrop during spring and summer, the fall festival has traditionally been the biggie in the quaint Eastern Washington burg with the faux Western theme.


This year's festival also will feature the likes of Doug Curtiss, a local bike builder of some renown who will raffle off one of his frames, and Hans Scholz of Bike Friday, as well as the not-to-be-taken-lightly "fresh hand-crafted beer" from the Twisp River Pub. The full schedule includes a kids' rodeo, guided and guideless (in addition to, we assume, misguided) mountain and road rides.
Much of it will benefit trail maintenance, which is badly needed around Winthrop-Twisp, so for a great time and a good cause mark your calendars and don't forget to bring the warmens.