From the time we first talked with Joe Breeze back in the early 1990s, we've held mountain biking's humble trailblazer in high regard. When Joe put out the word that, after several years of focusing on commuter bikes, he was back in the mountain-bike game, we were stoked at the news. Subsequently we had the opportunity to try out his updated signature bike for review. Interbike 2010, where Breezer will be showing off its full line, provided a great occasion for assessing the steel stallion he first showed off a year ago.
The Lightning Team is a state-of-the-art steel hardtail with inimitable Breeze tweaks. On a historical note, the Breezer Lightning is a hallowed model in mountain biking lore. Joe designed and built the first from-scratch mountain bikes as custom frames for friends in Marin County under the shadow of Mount Tamalpais. As a nod to Tom Ritchey, the other pioneering frame builder, Breeze's Lightning Team build uses a Ritchey headset, stem, handlebars and seat post.
Although most of our riding these days is on full suspension bikes, our Ibis Mojo and Pivot Firebird, we still hack around town on a slightly street-modified Titus titanium HCR hardtail we've had for nearly a decade. We decided to line up the Lightning with the HCR for visual comparison of what Joe has done to adapt convention to the 21st Century.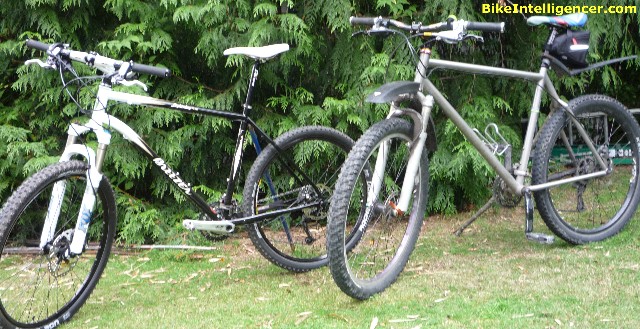 The first thing you'll notice is the Breezer's arched down tube (for fork clearance, but also strength). Then there's the shorter top tube. Lower standover height. More relaxed angles. Bottom bracket height and seat-stay length are comparable — a testament to both frames' racing heritage. You can't see it from the side-by-side, but the Breezer also has a clever inset rear disc caliper and unique dropout setup. [Full specs here.]
Testing the Breezer, we decided to trade off riding with our other bikes to really clarify its different feel. What jumped out at us most was the Lightning's trigger-quick handling, its responsiveness to terrain, and its cat-like climbing ability. There were times the Lightning just kind of melded with the ride to the point we felt really at one with the frame. It reacts so fast to what you want it to do, the bike seems almost psychic.
As its name suggests, the Lightning is made to go fast. It felt so demonstrably quicker we decided to do a couple of tests against our other bikes. We rode both hardtails around a hilly loop near our home on dirt trails through Lower Woodland Park. The first test we rode the Lightning first and then the HCR. The second test we switched the order. In both cases the Lightning was faster.
We did a similar test up a long singletrack climb at Grand Ridge near Issaquah, switching off between the Breezer and our Mojo. The results were the same. According to the stopwatch, the Lightning won. The margin on all four tests averaged out to under 1 percent. That doesn't sound big, but even a fraction of a second can mean a lot in a racing context. Just ask Davis Phinney.
Now to be clear, these tests were subject to so many variables as to render them meaningful only for casual observation. It should be noted that the Lightning is super light — 24.5 lbs. compared to 26.2 lbs. for the HCR and 25.5 for the Mojo. And although we tried to compensate for fatigue, etc., in the end our endeavor was hardly what you would call scientific.

Still, we found it interesting that the Lightning, in addition to feeling faster, actually was faster, as far as our admittedly unrigorous testing could determine.
Light as it is, the Breezer seemed capable of taking a pounding. We couldn't resist taking it over some of Lower Woodland's doubles, and even off a small lip jump. While the landings didn't quite compare to, say, our Firebird, we were impressed at how stable the Lightning felt on touch-down. It's a finely balanced, springy frame that airs and sticks well, hugging any surface. Even over urban fun stuff, going down stairs, jumping curbs, etc., the Lightning sucked up hits with grace and aplomb.
Although far more compliant than aluminum, steel (Breezer D'fusion custom-butted Reynolds 525 CroMoly) does not typically have the damping of ti. But we were impressed with the Lightning. It fell a bit short of the Titus in soaking up vibration, but its more sophisticated geometry gave it a precision that helped compensate for surface jar.
The large frame fit perfectly despite the shorter top tube. At first we thought the remote lockout on the Fox 32 F100-RL fork was overkill but came to really like it, the only trick being remembering to click back to travel mode after the climb! The Lightning's Schwalbe Rocket Rons were grippier than we expected, with an open tread pattern that accentuated the bike's speed. The Shimano XT drive train (rear XTR derailleur) was crisp and quick but we still prefer SRAM. The one thing we'd definitely change on the Lightning is the narrow (23-inch) flat handlebar. It felt too twitchy, especially after riding our 27-inch Mojo bars (the HCR has 25-inchers; both are 1-inch risers as well).
What really struck home for us was the fun factor. It's been years since we've ridden trails on a hardtail and we'd forgotten what a different set of pluses it can bring to the singletrack experience. This is a great all-around bike, especially for prowling the hills around Mount Tam, Breeze's stomping grounds. Joe has 29ers on the way and undoubtedly a few more tricks up his sleeve. Watch for more quality innovation from the fertile and creative mind of Joe Breeze.
[Note: While BikeIntelligencer policy is to review only stuff we've purchased, in this case we will return the Lightning to Breezer. We've got enough bikes.]