The Teanaway region north of Cle Elum has some classic mountain biking sharing three characteristics: Rooty, technical singletrack, vast fields of scree and/or rock gardens, and miles of creek accompaniment. So distinct is the Teanaway that experienced riders always know they're in its embrace. For better or worse (and it has plenty of both), the Teanaway is unlike any place else on earth for mountain biking.
If you want a compact, four-hour Teanaway experience, Esmeralda Peaks has it all.
The ride had been on Team Mojo's list for some time, but you know how it is. Something always got in the way, usually over on the Entiat. On Saturday we had a day-long window, grabbed it by the short hairs and made sure we didn't let go till Esmeralda was bagged.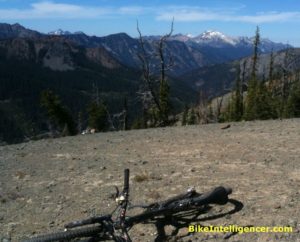 To get to the start we drove past Cle Elum, turning left on the Teanaway Road and driving … and driving … and driving, staying as it turned into the North Fork Teanaway Road till we got to the De Roux campground. We parked in a pull-out and rode the rest of the dirt road up to the trail head. You do this ride as a loop, and we've learned from experience that it's far better to start a ride than end it with a mind-numbing 2-mile dirt road climb.
The trail, No. 1394, starts a bit steep but soon mellows out to a rideable meadowy climb. At one point we missed a re-route, putting us on the old, unmaintained trail notable for boggy sections and lots of blowdown. Ah well, we weren't in any hurry.


A couple of pleasant and pretty uneventful miles up we were intrigued to find a junction with a sign for Trail No. 1226 — which we recognized from the standard Miller Peak loop miles to the east. Trail 1226 kind of disappears along the ridge between where we were and Miller, so there's no real way to connect the rides (especially since it would mean transgressing on the Alpine Lakes Wilderness). But it shows how integrated the Stuart Range network is.
Eventually 1394 spilled us out onto a sweeping view of several peaks, including Ingalls Peak and Hawkins Mountain and, in the distance, Glacier. This is the classic lunch spot.
Normally you'd assume the climbing was pretty much over at near 6,000 feet elevation. In this case, you don't want to overeat. After scoping out the trail's continuation — it wraps around the ridge and, although there are a couple of cairns, is not easily traced — we started the dive down toward a fairly brutal dirt-rock road (Fortune Creek jeep road) which, it turned out, connects Salmon La Sac with North Fork Teanaway.
The downhill is technical, sketchy and steep, with too many switchbacks to make it much fun. This is our least favorite way to lose elevation — ride 60 to 100 feet, turn, repeat till thoroughly cooked and serve. In this case we dropped 900 feet of loose, narrow, rotor-searing elevation. Adding injury to insult, we immediately faced climbing back up 600 feet of loose, rocky dirt road to get to our reward — the long downhill back to De Roux campground.


On the way down to the road we heard a booming gunshot, not far away and not exactly unthreatening. September 3rd is way too early for hunting, but this didn't sound or feel like target practice either. We stopped and waited for a repeat. Nothing. After a meaningful wait, we continued on down, wondering why anyone would shoot just once this far in the middle of nowhere unless they had happened to mistake the movement of humans for poachable game. It's easy enough to do when you're out in the wild, blind drunk and itching for any excuse to pull a trigger. Especially when you can always claim you didn't mean any harm and get off pretty much scot free cuz yer a hunter and all you did was shoot a dirtbag cyclist.
Climbing the steep, inhospitable road we spied a makeshift cabin, probably a hunter's hut. It had no door — you had to climb up the side to get in — and a wood stove inside. Jim speculated it had begun life as a miner's cabin, but the current iteration looked pretty fresh.
You eventually crest at Gallagher Head Lake, where we found some 4-wheel ATVers. On a hotter day earlier in the season the lake would be a perfect cooling-off spot, but it's looking pretty anemic this time of year. You can continue down the road at this point by vehicle (the ATVers did), but just past the lake the trail (No. 1392) cuts off and follows De Roux Creek down to the campground.
Here the fun begins.
The beginning of the trail is a real ripper, flowing along with long, smooth sections of soft singletrack. Then you hit the woods, things get steeper and much trickier. There's lots to challenge even a technically adept rider — not the wood ladders or manicured berms of a mountain bike park but Nature's own features, in this case big root or rock stepdowns, loose shale on the switchbacks, tractionless creek crossings and screaming ledge launches. It's a huge hoot, albeit all primitive. At one point Jim yelled to bear right, but I went left. We both thought I was over the bars, but somehow I bronco–bucked the big drop and emerged laughing and bouncing down the trail. It's all good, so long as you keep the tread underneath you.


As Jim noted, De Roux is not what you'd call a classic mountain bike trail. It's a wilderness trail that mountain bikes get to ride on.
When it's all over, you cover less than 12 miles on the entire loop. That may seem a head-scratcher for a 4-to-5 hour ride, even if it involves nearly 4,000 feet of climbing. By comparison, Issaquah's Grand Ridge is a 20-mile out-and-back with 2k of climbing that takes just 2 to 3 hours. But there in a nutshell is the difference between riding a mountain bike and mountain biking.
And the difference between the Teanaway and most other regions. Miller Peak, Mt. Jolly, West Fork Teanaway, Kachess Ridge, Esmeralda Peaks — there's just a look and feel here that puts you in a whole other zone. The Teanaway isn't built for comfort or for speed. It's built for real mountain biking, in real mountains.
Here's our GPS track for the day. Distance: 11.2 miles. Elevation gain: 2,967 feet.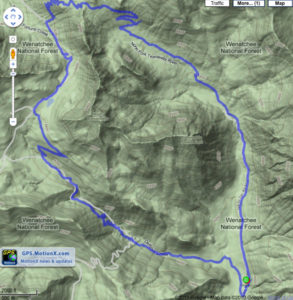 The loop is also clearly shown on Green Trails Map No. 209 (Mount Stuart).