In cycling history, Laurent Fignon's 1989 loss of the Tour de France by 8 seconds stands as the one "I remember where I was when" moments the sport has to offer. Although it came to epitomize Greg LeMond's fighting spirit as well as one of the great come-from-behind episodes of all professional sport (LeMond started the stage 50 seconds behind), the loss also stamped the two-time Tour winner as a loser. That's unfortunate and unfair, but it's also the way sports work. It didn't help that Fignon, nicknamed "The Professor" for his wire-rimmed glasses and serious demeanor, was aloof and uncharismatic — nor that the guy who beat him was America's first international star in the Tour.
Fignon later acknowledged using performance enhancers but shied from connecting doping with his cancer. He died today at age 50.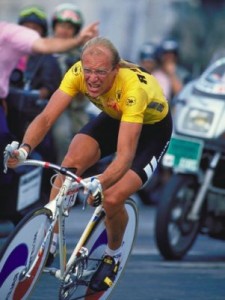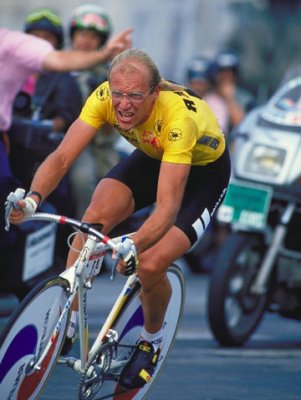 Historical aside: Fignon's loss also prevented him from winning a rare double, both the Tour of Italy (Giro d'Italia) and the Tour de France in the same year. Only a handful of cyclists have accomplished the feat, and they rank among the hallowed names of the sport (Coppi, Anquetil, Merckx, Hinault, Indurain among others). So grueling is the double considered today that few riders even try. Tour favorites have stayed away from competing in both since LeMond's time, and Lance Armstrong never even tried during his 7-Tour victory skein.