[In which our intrepid mountain velocipedes revisit the best trail no one's ever heard of; chase an ungainly moose uphill; ride around mounds of grizzly scat; cross raging creeks nearly waist-high; and otherwise ride the wheels off their Mojos in one of the great epics our fair land has to offer.]
Two years ago Team Mojo rode Long Canyon in the underrated and sweeping Selkirk range of northern Idaho and finished in such a state of stark delirium that we vowed to return as soon as possible. The interim had left me wondering if the ride indeed was as good as I'd remembered it. Could euphoria strike twice in the same place — without the use of pharmaceuticals?
First, a confession. We at BikeIntelligencer generally avoid the bestial practice of motorized assistance on an epic loop — in the parlance of our time, shuttling. For the adventure at hand, shuttling is a necessity. Forgoing vehicular transport would require riding 14 miles, 9 of it up a viciously steep (18 percent grade) fire road climbing more than 3,000 feet, just to get to the beginning of the ride. Then you'd have another 1,300 feet of climbing before starting the downhill run, and another 3,000 feet of cumulative elevation gain along ridge rollers before returning to your starting point. If your head hurts already from the math, think of what riding it would do. Locals also have been known to ride up Long Canyon Trail to Parker Peak and then ride Parker Ridge back down, but that's a whole other world of hurt.
Far better to find a passenger with a second car to accompany you to the top, then drive your car back to the end point (generally referred to as the spousal or girlfriend option). Fortunately Kendra and Autumn were game. As we ascended on a golden morning to our starting point, we flushed a moose out onto the road ahead. What fun to see the King of the Forest canter along like a bandy-legged school girl. Mooses look like the first rough draft of an elk or deer, where Nature got everything — the spherical form, spindly legs, clumpy hooves and homely face — just slightly wrong. For all that, you don't want to mess with moose. If they don't like you — and they never do — they can wreak all kinds of havoc.
To start the ride requires two vehicles, leaving one at the terminus, a grassy lot off Copeland Road (45). Then you drive back up Westside Road (417) to Trout Creek Road (634) and take it to the top, where the trail head starts at around 5,400 feet.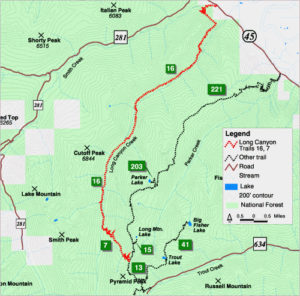 All of this takes a couple of hours from Bonners Ferry (go north on 95 and turn left on Highway 1 toward Porthill/Creston, after about 1 mile turn left on Copeland Road, cross the river again and turn left at the T onto Westside Road), so you'll want to start your day fairly early.
From there you begin a rocky ascent that includes numerous unrideable sections. Keep in mind it's only temporary, about an hour, before you start a glorious downhill. You do come to one intersection — Big Fisher and Trout Lakes trails — where you'll bear left and keep climbing.
There's a natural lunch spot at the top, if you don't mind being lunch for a few bugs, with a view of Pyramid Peak. You can also scramble up to the peak, but that's a bit of a chore and time on this ride is of essence, especially if the days are getting shorter.
The ride begins with a steep, switchbacky, challenging but fast set of rippers as you begin to drop back down the ridge. The trail this time was in even better shape than previously. It doesn't get much use in the first place, and the late spring had left it dustless and tacky.
Back and forth and forth and back you go in a zippered configuration. The long, straight, well-sighted sections enable plenty of speed, even if the switchbacks themselves test your nose-wheelying skills. By the time you drop into the drainage of Long Canyon Creek you've done a typical day's ride and more.
But hold on — this escapade is just beginning.
The name Long Canyon makes up in literalness what it lacks in poesy. The all-downhill-all-the-time part of the ride officially ends in a T at Long Canyon Creek, where we noted our first marked disparity from two years earlier. The water was a lot higher.
Each of the gaping water crossings on Long Canyon requires scoping out passages. Sometimes there are logs across the waterway. More often it's a matter of figuring out where the current is shallowest and/or (it's usually not both) slackest. There was no question of riding them. The water was too deep and strong, and the boulders slickered with moss. It was hard enough walking without slipping.
If water depth allows (you don't want your hubs and drive train in the rushing current), you can use the bike as a wheeled walking stick. But you have to make sure it's secure. You don't want to lose your grasp in the rapids.
Remember: The primary responsibility of a true mountain biker is to sacrifice the body before the bike. When you crash, be sure to cushion the frame with your flesh. When you go in the river, remember: You can swim, but your bike cannot.
The first serious crossing had a long log walk about 10 feet above the rapids that would have been doable if it had been drier. As it was, the penalty for a slip seemed too high, and we walked the creek bed. The water was up to our knees and the going dicey, but we made it. On a typical ride, it would represent the worst the trail had to offer. In the case of Long Canyon, the crossings get progressively wider, deeper and harder.
Fortunately, they're widely spaced. As with any river trail, Long Canyon goes up and down along the ridge. The difference here was that it was mostly down. You ride a short riser, then cruise down a long sinewy section. Then another short uphill and long downhill. It's a wonderful way to lose elevation — gradual, leisurely and … well, l-o-n-g.
As remote as the trail is, it's well-maintained. While the creek crossings themselves lack man-made bridges, there are numerous bridged sections over boggy or unstable ground. At one point we encountered a series of wood bridges on a long downhill run with one-to-two foot drops. You have enough speed to really air it out.
Through all this you're in serious old-growth forest, including sections of huge hemlock and cedar somehow missed by loggers of a century or more ago. Long Canyon is on the list for wilderness consideration, which we'd be all for if it weren't for the phrase banning "mechanized" vehicles in the Wilderness Act — meaning no mountain bikes. At some point, we hope to live to see it, all wilderness advocates will realize that mountain bikes, no matter how popular, pose no threat to the preservation of wild lands.
Eventually we came to a campground with a fire ring and makeshift lean-to. You sit there basking in the shafts of sunlight filtering through majestic tall trees and you think of all the rides you've done and it hits you that this is like none of them and yet all of them. If you took your Top 10 favorite trail rides and stitched them together, you'd probably have something approximating Long Canyon. It has that much challenge, variety, distinctiveness and distance, all in the course of one day's outing.
At one point we ran across — or more accurately avoided running across — one of the more auspicious piles of bear scat we'd ever seen. Grizzly, Jim speculated. They were out here. We later were told they bring the "problem bears" from Yellowstone and environs for dropping off in the region. After all, what harm could grizzlies do in the wilds of the Idaho panhandle? To two delicious mountain bikers from the big city? I've ridden alongside and otherwise seen black bears up close without feeling threatened. I was figuring I'd like to see a grizzly some time too. But Jim assured me it's not the same thing and, for this ride, had attached a bear bell to his saddle. The damn thing gets on your nerves for sure, but one thing I've learned from years on Team Mojo is, you don't question the Lyon King's better judgment. (As my wife tells me, If I didn't have bad judgment, I'd have no judgment at all.)
Our final river crossing was the most harrowing. A natural dam composed of a jumble of snags and deadwood blocked half the river bed, forcing the already strong current into a narrower, deeper channel. The water was waist high and rushing with the power of a locomotive. There was no way of telling what was under foot. We teetered across, lifting and propping the bikes, slipping time and again precariously, narrowly keeping our balance. To keep the bikes from being swept away required lifting them over our heads and passing them to one another. The problem was literally nothing to grab on to. A simple piece of rope stretched across the river would do wonders for navigability.
From the last crossing we scampered along the canyon for miles and miles, up and down, an endless roller coaster of wooded, then exposed, ridge line. Finally we turned northwest and lollygagged through a cool forested section. Then it was time for the final blitz down a series of switchbacks to the parking area where Kendra and Autumn had left the CRV.
You would not imagine, after seven-plus hours on the bike, that you would be ready for more. On most epics, you're too trashed to even think about the next ride. But for all its challenges, Long Canyon leaves you longing to do it again, right away. Partly because you start the downhill fresh. Partly because you're shielded from things like heat and bugs. But mainly because the ride is so intense, every millimeter of the way. There's nothing to distract — not the scenery of Boundary Creek or the bugs of Greenhorn Gulch or the rock gardens of Cow Creek or the horse-puckey ponds of Little Boulder. We saw no other riders, no other people, not even any wildlife. The focus is on whatever piece of singletrack is in front of you, mile after infinite magical transcendant mile.
Long Canyon, Idaho: It's all about the trail.
Distance: 18.5 miles. Cumulative elevation drop: 6,225 feet.
[Next: Ripping the trails around Priest Lake with OMH — Our Mysterious Host.]