[In which our irrepressibly mobile duo heads north to the Idaho pandhandle; discovers the inebriated charms of the Gunsmokey town of Salmon; pays a whopping $1 less a gallon for gasoline; and gets unceremoniously branded for life by an ordinarily humble bicycle part.]
After our all-day adventure ride we headed north on 75 cum 93 (the two merge south of Challis) to the next meaningful dot on the map, the town of Salmon. Our intention was to camp out but we were so fried that, yes, we caved. We decided to look for actual accommodations. As it happened, we also had over the course of the 11 or so hours since breakfast developed a modicum of appetite. So at the first sign of a decent eatery, in this case the Junkyard Bistro on the main drag, conveniently called Main Street, we repaired to the outdoor seating area and mulled over the culinary possibilities. Now when you've expended 3,000 to 4,000 calories, you're not really that picky, even if the name of the place implies a menu steeped with goat food. But the cheerily competent waitress steered us toward a couple of Thai noodle dishes that were sumptuous and filling. We so trusted her instincts that we asked for her recommendation on where to stay. The Stagecoach Inn was a good 'un, she said.
It was just down around the bend a piece, which is really how they still talk in Salmon. We got checked in, took excellent showers and, after flat-lining on TV for the first time in more than a week, collapsed into slumber.
The next day we were off bright and early after doing breakfast at the waitress' other recommendation, Betram's Brewery. The dining fare was about what you'd expect at 8 a.m. in a pub, but what really made breakfast was overhearing the post-hangover confessions of our smoky-voiced waitress. That's what life is like in Salmon, where the lead local story in the newspaper was an ex-sheriff being arrested for DUI, on the same page where advertisements appeared for candidates running for sheriff. Helpful!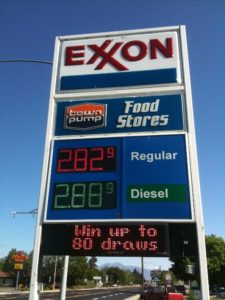 Then it was time to hit the road and make serious tracks. We buzzed on up 93, marveling at the lava rock formations and ancient abandoned log cabins and farmhouses. In Hamilton we stopped for gas. Before leaving Ketchum we'd filled up for $3.89 a gallon. Here, 174 miles north, we were paying $2.83. Now you tell me how gas prices in America aren't anything but entirely discretionary, no matter what the oil companies say. By the way, does BP really think we believe those schmaltzy ads about saving the Gulf?
Anyway…
By early afternoon we'd made such good time we decided it was — now don't be shocked! — time for a mountain bike ride! Jim knew of a cherry little trail outside Sand Point called Gold Hill. We pulled into a deserted trail head and were soon off and running.
The 4-mile out-and-back started out climbing pretty aggressively, with some wickedly steep switchbacks, but soon leveled off to a pleasant grind. It was pretty much all buff singletrack, too. We crested at one viewpoint with killer lookouts over Lake Pend Oreille, then headed on up another mile or so to the top, which T's at a fire road that isn't worth taking to the summit.
We headed back downhill, and it was just what the doctor ordered. The doctor that on weekends likes to get out 'n ride, that is. This was a truly ballistic downhill, with straight sections between switchbacks, some short, most of them long, that really stoked the adrenaline. Ah, what pure unadulterated speed can do for the soul! There are some ledge jumps as well to keep the fun needle pinned.
By the time we dumped out at the trailhead we were considering a repeat. But we were aiming for a 5 p.m. arrival at Bonners Ferry and had some errands to run, so it was put the bikes back on the rack and belt up for another hour or so north.
So to paint the picture for you: We had arrived at the trailhead, chatted a few moments about whether to ride back up, put the bikes on the rack. Jim likes to velcro-strap the bikes just as a safety measure, too. Then it was time to string the cable through the frames and lock the bikes up.
Eeeeyowww! As he was reaching through his bike's frameset, Jim let out a yelp and jumped back, holding his forearm. There was a bright red welt forming on the soft under-flesh south of his elbow.
He had accidentally laid his forearm against his front-wheel rotor. Which, despite the elongated interlude after the ride finished, was still brand-iron hot. That's what a 4-mile rocket downhill in 95-degree heat will do. For the rest of the trip Jim kept showing the brand as it changed shape and hues. It was a marvelous conversation starter. He had turned into a walking advertisement for Magura Marta rotors.
We pulled into Bonners Ferry, which is just 30 miles south of the Canadian border and bills itself as Idaho's friendliest, erm, city, and cruised into the local Safeway to replenish supplies. The parking lot was jammed, and when I say that I mean we found the very last remaining open slot.
"Sheesh," I said. "You'd think Safeway was the only place to buy food in Bonners Ferry."
"Well…" Jim said. "As a matter of fact…"
Distance: 8 miles. Elevation gain: 2,334 feet.
[Next up: Team Mojo reprises an epic ride you've never read about before. A BikeIntelligencer exclusive!]