In a dramatic step into the 21st Century, the Mountain Bike Hall of Fame is inducting the pioneering freeride band called the "Fro Riders" — Wade Simmons, Richey Schley and Brett Tippie — into its hallowed quarters on September 22 at the Interbike show in Las Vegas.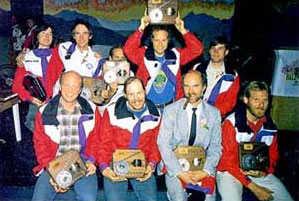 We wish trailblazing trail builders Ross Kirkwood, Dangerous Dan Cowan and the incomparable Digger (Todd Flander) were included as well, because without them the Fros would never have fro'd.
But there's always next year.
These guys took mountain biking out of the suffocating realm of organized racing and liberated the sport with creative, no-holds-barred, out-there trail building and riding techniques. Vancouver's North Shore, Whistler's Mountain Bike Park, and all the spinoffs worldwide, including the Seattle area's own Duthie and Colonnade skills parks, would never have happened without the charisma and recognition that the Fro Riders brought to mountain biking.
Congrats guys, well-deserved.