Mark the Mouth Cavendish won today's Tour de France Stage 5 in a sprint at the finish, and won it decisively. But it was the return of Wenatchee's Tyler Farrar to the sprinters' ranks that made the day for us.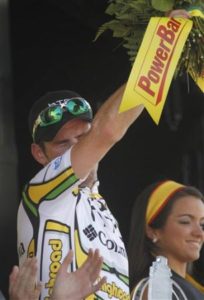 Otherwise the stage was a straightforward day on the flatlands in France, with everyone getting the same time and the yellow jersey staying with Fabian Cancellara.
In a pre-stage interview with Versus, Farrar was curiously coy about how he and his team, Garmin-Transitions, would play the day. The interviewer focused on Farrar's teammates Robbie Hunter and Julian Dean — figuring, like the rest of the cycling universe, that Farrar would spend the stage recuperating from the broken wrist he suffered in Stage 2.
After the interview, veteran commentator Phil Liggett reiterated that Farrar had no chance in the stage, given how a sprinter must pull on the handlebars during the final out-of-the-saddle pounding toward the finish line.
Now we know why Farrar was so non-committal. He and Garmin were planning a little surprise for the final sprint.
Farrar made a strategic mistake, winding up on the wrong side of Dean during the final lead-out, but in any case did not appear to be at full strength. Which is fine. The fact that he's back in the thick of things when many others would be throwing in the towel shows him to be a true champion, stage 5 win or no.
Other notes:
Lance Armstrong is back to being heckled over alleged doping, a common practice during his 7-straight yellow jerseys but noticeably absent in last year's comeback Tour.
Cavendish, whom we like to tease as Mark the Mouth (we actually like his brash outspokenness) but who undoubtedly prefers the nickname "Manx Missile," dissolved into tears on the podium. We assume tears of joy, or tears of relief, at his return to form after a pretty disastrous spring of disappointments (crashes, penalization and the cold shoulder of the peloton), but there may be a backstory as well that on-the-scene reporters will enlighten us with.
And Paul Sherwen again gets the line of the day (besting previous champion Bob Roll) with a comment that "adding to the colors of the team jerseys in this Tour de France is the white of bandages that so many riders are wearing." A testament to the innumerable crashes marring the early stages of the Tour.