Although it will be hard to do, this year's Tour de France will be aiming to live up to the daily surprises, drama and spectacular racing of the Giro d'Italia starting Saturday.
For Northwest fans, Wenatchee star Tyler Farrar — looking for his first stage win in the Tour — will get some pretty impressive help in the 2010 edition. Joining Farrar on Garmin-Transitions will be Brit David Millar, Americans Christian Vande Velde and David Zabriskie, and Canadian Ryder Hesjedal. All are versatile riders with strong sprint credentials and the ability to lead out Farrar in what promise to be some killer finishes against arch rival Mark the Mouth Cavendish.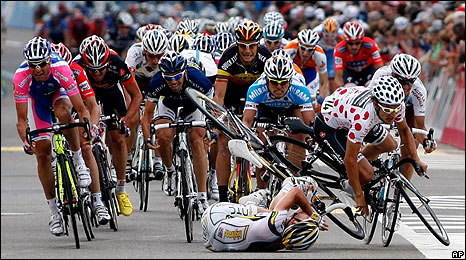 Cavendish will be recovered from a spectacular crash in the Tour of Switzerland but may carry more after-hurt from a controversial penalization than any injuries suffered.
Another sprint standout, and another victim of the Cavendish crash —Tom Boonen — is out of the Tour with tendinitis.
We'll be pulling for Farrar of course, but the Big Picture issues for this year's Tour include:
Lance Armstrong: Can he challenge, and if not, is this his swan song?
Alberto Contador: Is it a foregone conclusion that last year's winner will repeat?
Andy Schleck: A spotty spring racing season punctuated by weird crashes leaves one of our favorite Tour riders a big question mark.
And finally, Will this be the first post-doping era Tour de France? With France's anti-doping agency feuding with the official governing body, the UCI, and the cloud of the Floyd Landis-Lance Armstrong accusations hanging heavy over the sport, there is unprecedented incentive for this to be a clean Tour. But with Big Money still calling the shots, the temptations for cheating remain imposing as well.
It all adds up to one of the more intriguing Tours in memory. Now if the racing can only live up to the backstory drama, we'll have a Grand Tour for the ages.