Now this is pretty cool. A new shuttle service will take mountain bikers from the freeride hotbed of Aptos near Santa Cruz all the way up to the east entrance of the Forest of Nisene Marks, where they can ride all day at Soquel Demo Forest and then cruise back down the fire road to Aptos.
At $15, it's cheaper than driving our own van up and back. And that's a drive we dread anyway, along narrow winding roads. Plus you're carpooling dude — doing your small but still important bit to conserve on gas and save a seabird or two from the likes of the Gulf Oil leak.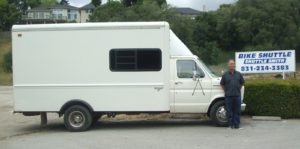 One other thing: Parking and leaving an empty vehicle up at the top can be an invitation to car prowls. Every time we go to the Demo Forest we see the broken glass of burgled vehicles.
It all starts tomorrow, Saturday June 5th. The shuttle will leave from the Epicenter Cycling shop at Aptos Station at 9, 11, 1:30 and 3:30. There's a Shuttle Smith flyer with more details.
Thanks to Mark Davidson of Mountain Bikers of Santa Cruz for posting. And to Dave Smith for starting the service.