The B.C. Bike Race is one of the world's toughest mountain bike stage races. But you don't need two wheels to ride it.
Mountain unicycle legend Kris Holm will do the 7-day race from Vancouver, B.C. to Whistler, bringing his cheerful charisma to the Canadian event starting June 26.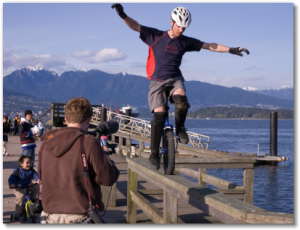 We got to know Kris a bit back in our early North Shore days when he'd come ripping down slopes on a unicycle that we were having a hard time scoping on two wheels. It was a good thing we saw what he was doing in person, or we would've attributed it to Photoshop.
It's been fun watching him over the years develop into a bona fide biking celebrity, spreading good will and a positive message to cyclists of all stripes everywhere around the world.