Since leaving Woodinville-based FSA in 2008, wheel-building legend Ric Hjertberg has kept his work largely shrouded in mystery.
Now the story can be told: Hjertberg has been working on innovative unibody, featherweight, aerodynamic, bullet-strong, all-carbon wheels. His new company, Mad Fiber, is in production at the former Essential Bakery in north Seattle and expects to have wheelsets on the street by July. They are road only initially but mountain bike wheels are on the boards as well.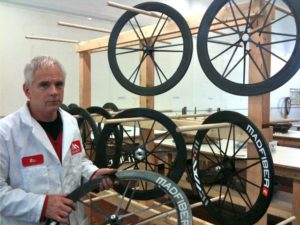 "We've created the wheel as a single unit, where forces flow gracefully from component to component," Hjertberg says.
Translated: Energy from the rider gets distributed evenly and more directly throughout the wheel, providing more direct and efficient transference of power on acceleration and climbs.
"Our goal is singularity, a unit with organic transitions — much as found in nature, where force and function move smoothly, not abruptly."
Let's just say they're really cool.
Wheels are the one place on a bike where carbon has been under-optimized, Hjertberg feels. During the carbon revolution of the past decade, frames, handlebars, cranksets and even small components on shifters and derailleurs have been honed to greater strength and reliability through constant R&D.
Wheels have been part of the mix but held back by conventional concept and design, resulting usually in a hybrid of carbon and other materials.
Mad Fiber wheels look like they're stamped from a single piece of material, much like CNC-machined components. The blade spokes flow directly out of the rim, meeting at the hub not so much in a flange but a hood of carbon (the hub itself is titanium). Although the wheel starts out in bits and pieces, it's nearly impossible to tell where each begins and ends by the time the final wheel materializes.
The result isn't cheap: Mad Fiber wheels will retail around $2,600, which most people consider pretty expensive for an entire bike. Carbon as a material is not costly (it's plastic, after all), but custom molds run $10,000 to $20,000 apiece. Over time amortization will bring down cost, but out of the gate any new carbon component is pricey. And Mad Fiber's target price, cheap next to some wheelsets like the Reynolds RZR at $6,000, is well in the range of Easton's EC90 SL, which retails for $1,800.
In return customers get a weight — 1085 grams per wheel set — that seemingly defies the laws of physics, with strength and performance unmatched by anything metal. During the recent Tour of California, George Hincapie gashed the front rim of his carbon Easton EC90 tubular clear through the sidewall. The wheel not only held together but stayed true while Hincapie completed the stage.
With the bemused engineer's sense of irony that marks much of Hjertberg's world view, Ric notes how fitting it is to be "cooking" carbon parts in a space that formerly housed Seattle's leading organic bakery. Essential's cafe is still at its familiar lower Wallingford location, but the bakery part moved to Georgetown in March. At Mad Fiber, carbon is baked in custom molds by white-cloaked engineers, then glued and finished on location.
"Our ovens go to 350, we bring stuff out and cool it, cut it into little shapes, make our little pastries, put 'em in the oven," he said. "At the end of the day, it's not that different."
It's all very Mom 'n Pop right now. Hjertberg said he "could have gone the Taiwan route" (where most of the world's carbon cycling production is based) but liked the idea of soup-to-nuts control over the process. And Mad Fiber joins a growing number of American startups that can stamp their products "Made in U.S.A." without fudging.
Hjertberg's latest venture marks a return to roots of sorts. Working out of a tiny shop in Palo Alto, Hjertberg and his brother Jon rose to prominence in the late 1970s with Wheelsmith wheel sets that became synonymous with strength, quality and attention to detail. By the mid-1980s pros everywhere were using them and the shop expanded rapidly into downtown Palo Alto.
Wheelsmith eventually outgrew Hjertberg's interest in running a big company, and FSA's fledgling operation, which was doing pioneering work of its own with carbon, attracted him to the Northwest. After FSA he worked on wooden wheels and founded the popular wheel tech blog, Wheel Fanatyk.
Mad Fiber started out as an idea in Hjertberg's Madison (the "Mad" part) Park basement. Ric credits aerospace designer and Mad Fiber chief technologist Max Kismarton with much of the tech ingenuity, comparing himself as a sous cook to Kismarton's head chef. Russ Riggins, chief operating and financial officer, is a cycling enthusiast with more than three decades of experience helping startups. Hjertberg says the idea was always to come up with a different name, but angel investors liked it and it stuck.
Hjertberg has funding to see Mad Fiber well through early production — two sets a day through the end of the year — but continues to seek financing, drawing on Seattle's active cycling culture and venture wealth. Mad Fiber also is pursuing partnerships with industry names for distribution and marketing.
The Seattle area is a perfect seed bed for innovative design, Hjertberg says — reminiscent of the San Francisco Bay Area during the first wave of the Euro-inspired bike boom when Wheelsmith rose to prominence. Puget Sound's aerospace and maritime industries provide a rich source of engineering acumen as well as lots of small companies doing creative things in sporting goods.
"This is a fantastic location to be doing what we're doing," Hjertberg said.
[For further perspective seem comments queue in VeloNews story.]