Confirming our speculation a week ago and again earlier today, Lance Armstrong tweeted that the 2010 Tour de France beginning Saturday will be his last.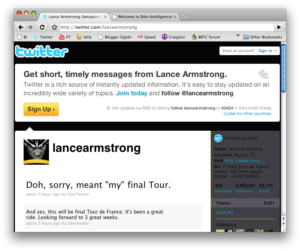 We love Lance's classiness and sense of moment, using Twitter rather than a press conference or some other corny old-school platform for saying goodbye. He knows where his fan base resides, and how to most effectively get the word out.
We've suspected since the Landis accusations broke that Lance — who has been fairly restrained in his defense, in contrast to team manager and longtime Armstrong confidante Johan Bruyneel — would make this Tour his swan song. It should also be clear that Lance is no Brett Favre — although he came out of retirement before, he truly won't be back again. Strategically, it makes all the sense in the world, and there's really no downside.
First, he'll have the whole world on his side, akin to any rock star's "final tour." The doping cloud will all but dissipate in the rising tide of well-wishing over the coming three weeks.
Second, the pressure is completely off in terms of winning, or even placing well. Under the circumstances, Lance merely has to show up and perform respectably (and hopefully not crash out) to provide a memorable final ride. Sure it would be great to win, or even podium. But with the odds against either, this is the next best thing Lance could do to ensure the attention and celebrity he's used to on the Tour, and which befits a champion's exit.
Without the farewell theme, chances are this Tour would still have been his final one — and leave lingering disappointment in an "out with a whimper" kind of way rather than a celebration of all the great memories Lance has provided over the years.
Finally, Lance's retirement (of sorts; he'll probably keep racing selectively) paves the way for what we also suspect is an ulterior motive here: He'll finally acknowledge doping during the "everybody did it" years in an attempt to wipe clean the slate and put the whole sorry doping-era mess behind not only himself but — far more significantly — the sport of cycling.
With too many people cooperating with investigators, with his retirement in force, and with a sense that his admiring public is behind him no matter what, the upside of a full confession will have finally surmounted the downside.
This is really the only contribution to the sport he and we all love so much that remains for Lance to do. As savvy, charismatic and entertaining as The King has been over the years, making a clean breast of it would be a champion's way to put the final touch on a glorious career.
In the meantime, Lance's announcement is one more reason to believe this could be a Tour for the ages.
[Lance himself downplays his chances in this video.]