It's funny the way things work out sometimes. In January MonaVie Cannondale racer Leana Gerrard was training hard, looking forward to a breakout 2010 and returning to her favorite event — France's mass downhill marathon race, Megavalanche.
Then the bad news came: Her sponsors were withdrawing. The team was disbanding. It was too late to try to hook up with another team. Her 2010 season was over literally before it began.
But then she got the call from her brother: Why not join him in his new business, Imagecraft out of the Seattle suburb of Auburn. Brian Gerrard had worked at the two-decade-old sign-banner-decal wrap shop for five years before hitting on the idea of buying out the owners. In her spare time between training runs on Galbraith Mountain out her back door in Bellingham, Leana had earned a degree in business and marketing from Western Washington University. He knew design and operations, she knew sales and marketing. Both highly driven, creative types, they were a natural team.
So now when you see the yellow and black Evil Bikes van, or the tricked out Full Speed Ahead rig, or the Redline trailer, or a Transition bike wraparound, or a BikeHugger decal, you can think of Leana and Brian and Imagecraft. Or if you're down at Pacific Place or at a bike race with booths and banners or at an autocross competition with numbered cars, there's a chance what you're seeing came out of the Imagecraft talent pool.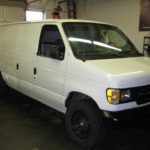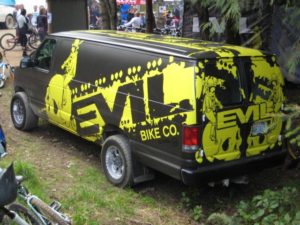 There's a bigger story as well here, having to do with a new entrepreneurial wave in America. Where kids in their 20s and 30s are having to roll their own careers based on where their hearts lead them. In many cases they're leveraging new technologies, or new ways of using traditional technologies, and formulating businesses out of personal networks and passions that might not have been considered career-appropriate in the past.
In the Gerrards' case, Ian and mother Elza staked Brian and Leana a loan. Imagecraft is a throwback in that way — the archetypal family business blending a love for the racing scene with a flair for creative enterprise.
"The local family business is making a comeback," said Leana. "It has been inspiring to see first-hand how many people have started businesses in the six months since we've owned the company. We have a lot of people contact us when they are still in the thought process of starting a business, which has been great because we were able to help them in creating a brand identity often including designing a logo, creating a name and a slogan and helping with the mission and vision statements."
One of Imagecraft's key products has to do with printed vinyl decals, or wraps. An image is printed onto the material, which is then laminated and installed as a solid sheet on the side of the vehicle or object. So seamless is the procedure that the wrap makes the object look like it's been painted. The advantage is that the decal can be designed and printed in strips as wide as 54 inches, then easily applied. If sponsorship or other circumstances change, or the vehicle has to be sold, the decals are a snap to remove. It's a lot cheaper and less labor intensive — and better for the environment — than painting, yet makes the object look as intricately unique as a custom tattoo.
So far the partnership "is working out great," said their dad, Ian Gerrard, an automotive manufacturer sales rep and former rally car racer. "They haven't killed each other."
Dad is only partly kidding. Brian and Leana have the usual sibling rivalries. Then again, when brother and sister are both racers, a little competitiveness isn't a bad thing.
Brian got into racing first — Ian says he "made the mistake of driving by" a Wednesday evening race at River Valley BMX track near Sumner when Brian was 6.
"Dad, wait! Pull over!" son told father. "Let's look at that!" From that point on, "all he could think about was racing," Ian said.
Two years later, when she turned 6, Leana was hooked too.
"I guess it was a case of wanting to do what my big brother was doing," Leana admits.
"I was a little peeved at first," Brian recalls. "This was like my thing."
But it soon became obvious that Leana had loads of talent and could hold her own on any course. Big brother helped mentor her and the two became fixtures on the local circuit.
"I started carting them to races all over the place," Ian said. "I could see it was something they enjoyed, and if it kept them busy they'd never get into trouble."
Ian said he "never thought twice" about the fact Leana as a girl was in a minority, and pursuing a passion that had little chance of leading to an actual career. For one thing, there were a handful of other girls around as well, notably future world champion and Olympic medalist Jill Kintner, who as Leana puts it "I knew when she was taller than me." Ian has a photo where Kintner is a head taller than Leana (whom Jill called "shrimp"). Lithe and lean, the 5-foot-10 Leana towers over Jill today.
Leana turned to dual slalom mountain bike racing in her teens and, following graduation at Western, became a sponsored pro in dual slalom and 4-cross. Besides finishing fourth in the sprint and 15th in the overall downhill at Megavalanche last year, Leana's results include firsts at Fluidride in Port Angeles and the BC Cup in Kamloops as well as top-3 finishes at NORBA events. Those were in 2008, when she also suffered a broken foot that laid her up for much of the season. Previously she was a five-time collegiate champion in downhill and 4-cross and, since her first win in 2004, has taken home several NORBA 4-cross trophies.
Imagecraft is helping Leana, who is also featured in the popular Bones Over Metal movie, "Women of Dirt," and Brian, whose top BMX result was 6th at the nationals when he was 11 but who also has won amateur class titles at Whistler's Crankworx, stay elbow-deep in the competitive bike scene. Leana, who lives at Lake Tapps, commutes by bike an hour each way to work and home daily, then rides weekends at Duthie Hill mountain bike park or other local outlets.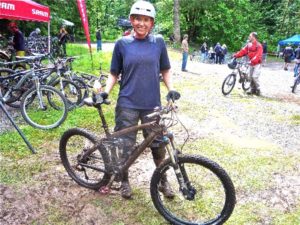 "It was disappointing not being able to race this season, especially Megavalanche (which will take place in early July)," Leana said. "But it was lucky that I was able to get involved in the business."
She's kept her stable of Cannondales — a Judge downhill, Rize XC, Aaron Chase jump bile and Moto trail bike — and wants to get back into racing. But the job is keeping her more than full-time busy. She tweeted recently that she keeps getting texts asking if she's still alive.
"I mean, I know I do a dangerous sport," she says. "But really." Just about any weekend you can find her out on the trails. And if you need a custom wrap, decal, sign or banner — well, now you know where to go for it.