It seems the unlikeliest place of all for a car-bike accident: A days-long, 2,745-mile mountain bike race along the Great Divide on trails, fire roads and rugged back country.
But that's what happened, and a husband and father is dead.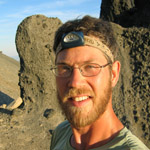 Dave Blumenthal of Montpelier VT died June 24th of injuries suffered when he collided with a pickup truck on a remote dirt road. Police say the driver was not at fault, but police usually say that. It remains, and may always remain, a mystery as to how the noise and commotion of an approaching pickup truck would not be enough to warn an experienced cyclist of danger. We would encourage race organizers or a cycling advocacy organization to investigate the circumstances further if warranted — it's difficult from press accounts to mentally reconstruct this accident.
In the meantime, our thoughts are with Blumenthal's family. More from the Tour of the Great Divide Web site, and a moving account of Dave's final days on his own blog.