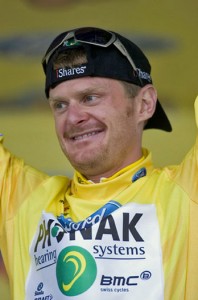 Big big news in the cycling world. Lance Armstrong has had the doping finger pointed at him by someone who should know.
According to a story in the Wall Street Journal, Landis has for the first time fully acknowledged using performance-enhancing substances, i.e. blood doping, and says he is naming names re others' use. The biggest on the list of course would be the King himself, Lance Armstrong.
Armstrong has been implicated repeatedly over the years, in documents, books, court testimony and by association with physicians linked to doping. But he has managed to raise enough doubts to deflect suspicion. And for the record, he has never actually been caught — or at least if he was, it was never made public.
The list of names already disclosed in Landis' accusations, which comprise a series of emails to cycling officials, is depressing, sad and unsettling: George Hincapie, another rider considered straight and narrow. Levi Leipheimer, currently favored to win the Amgen Tour of California (where Lance is riding in his support). Johan Bruyneel, Lance's longtime team manager and confidante, currently head of Team Radio Shack in the Tour of California. David Zabriskie, the current leader of the Tour of California. All American riders, considered all-American riders as well.
If true, Landis' accusations mark the potential passing of an era similar to what baseball went through a couple of years ago with congressional hearings and all-star confessions regarding use of steroids. No one knows if usage has really been stopped. But the aura of sportsmanship for the "roids era" of baseball has been forever tarnished.
If there's been a pattern to doping in any sport, it's that athletes need assistance to pull it off. And typically the cover gets blown when someone steps forward. In Lance's case, his inner circle has been consistently tight over the years. We always guessed his former wife would be the one to finally state the case. But Landis beat her to it. [See Joe Papp's post on this point.]
Lance has been subdued in the Tour of California and uncharacteristically muted about his racing form and ambitions so far this season. If he had any inkling of Landis' action, it might explain his low profile. Now the cycling world will be in an uproar — the equivalent of the BP Gulf oil spill — while news media continue to probe and investigate Landis' allegations. It will hardly be a copacetic environment for pursuing racing glory this season.
Our stance on Lance has always been that his charisma, commercial drawing power and huge international following put doping authorities in an impossible bind. Even if they did manage to test him positive, what would it mean for them to disqualify him from an event like the Tour de France? It would cost the event and the sport millions in lost sponsorships, American disenchantment, TV and media coverage, advertising and general tainting of the grand and glorious sport of cycling.
Our theory has always been that mum was the word. Now, as details emerge from the Landis confessions, we may see if our suspicions were correct.
Our hope is that Lance will make a clean breast of it and move on, so that his foundation and his worthy work all over the globe for fighting cancer and bringing fans and attention to cycling can continue without a morbid cloud hanging over it. It takes a true champion to own up to his or her faults. People like to forgive and forget, and if Lance comports himself moving forward as well as he has in the past, he can put all this behind him with an "everybody did it" defense. In that sense he can rise above Alex Rodriguez and Barry Bonds "syndrome" — stars who were jerks before they were accused and remained jerks afterward.
One last thing: We can only hope that Lance was clean last August when he rode away from the field in the Leadville 100 to deprive local hero Dave Wiens of a 7th straight championship. To think that Wiens, a true sportsman and humanitarian, was deprived of a legitimate win on the basis of drug cheating would be one of the more depressing circumstances we've encountered in our lifetime of cycling obsession.