It's been four years since a name other than Starbucks graced the sponsorship slot of Seattle's Bike to Work Day. But if you had to pick an energetic, committed and fiscally thriving Seattle-based company to succeed Starbucks, you'd be hard-pressed to find a better outfit than F5 Networks.
Bike riders populate the company at all levels, including overseas offices and the entire executive team. The company offers covered and secure bike parking. There are not only showers on-site but a full gym and towel service. Employees receive $100 a month if they don't drive to work.
The 1,800-worker company boasts 125 Seattle employees participating in Cascade Bicycle Club's "Group Health Commute Challenge" (even in overseas offices, F5 employees are participating, including two in Tomsk, Russia). And this Friday, F5's colorful team jerseys will be in broad evidence at the Mayor's kickoff rally beginning 7:30 a.m. downtown at the Fourth Avenue plaza of City Hall.
So bike–minded is F5 that its marketing chief, Dan Matte, recently took its chief accounting officer, John Rodriguez, to Gregg's Greenlake Cycle to get a new commuter bike — a Civia Hyland Alfine, with internal 8-speed Shimano hub.
"John was the lone holdout on the executive team," explained Matte, who commutes 36 miles round trip from his Issaquah home on a featherweight carbon Velo Vie road bike. "We couldn't let him get away with that."
When a hunkering-down Starbucks, battered by overexpansion, competition from boutique brands and a down–draft economy, stepped aside after last year's Bike Month festivities, F5 was quick to fill the gap. Although Cascade does not specify sponsorship numbers, F5 "made a substantial commitment not only in funding but in resources," said Mike Inocencio, Cascade's business-relations manager.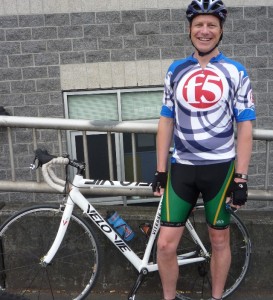 "We're really lucky to have them," Inocencio said. "They're obviously passionate about cycling, but they're also friendly and cool, and wonderful to work with."
F5 may not have the mainstream name recognition of Starbucks. But at a time when the coffee giant is struggling to regain its mojo, F5 is busting out the doors in its tech space — network delivery of corporate applications. F5 provides products for companies to deliver their applications over the Internet quickly and securely.
Whether companies rely on internal systems or external "cloud" services, they increasingly turn to the much cheaper, easier to use and always available Web, especially for mobile applications. Obviously, security and reliability are at a premium in the open environment of the Web, which is where F5 comes in.
"We help companies ensure that their applications are always on, responding quickly and securely," said Matte. Demand is outstripping F5's capacity right now — the company hired 80 people over the most recent quarter and still has 120 openings, the main challenge being available talent (Note to applicants: Riding a bike helps!). In the meantime, it just marked its third straight record quarter, up 38 percent from last year and, even more impressively, 9 percent quarter-to-quarter. Sales were up sequentially over all regions, a testament to F5's indispensability and versatility.
It hasn't always been gravy for the company, founded as F5 Labs in 1996 on the cusp of the dot-com boom. F5 had a robust IPO in 1999, then suffered along with the rest of the tech sector in the dot-bust. In 2006 it weathered an SEC investigation by restating five years of results, and as recently as January 2009 was still experiencing layoffs. (The SEC inquiry officially closed in January with no enforcement action recommended.)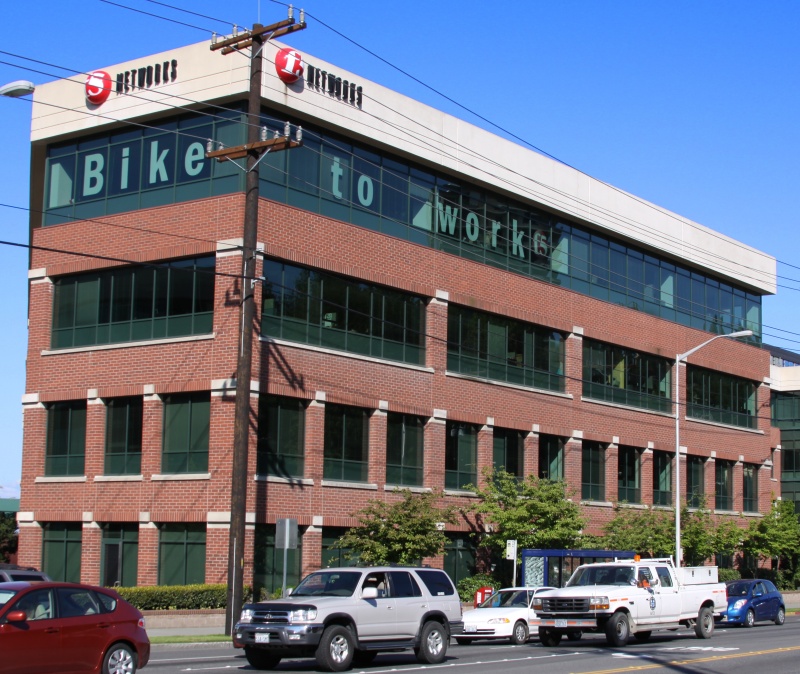 But with shares up 165 percent from a year ago, its gangbusters now, putting F5 in a golden position to marquee this year's Bike to Work Day. Clear Channel billboards have sprouted across town promoting F5 Bike to Work Day, and the company's windows spell out, in huge letters, "Bike to Work" on the top floor of its Elliott Avenue headquarters.
F5 is a throwback to the tech roots of Bike to Work Day, when terminal emulation maker Walker Richer Quinn (later shortened to WRQ) was a perennial title sponsor. WRQ merged with Attachmate in 2005, but its co–founder Doug Walker remains active in cycling circles and is a bronze level sponsor of this year's Vulcan Bike to Work Breakfast.
In the tech world, F5 typically refers to the key by that name on a computer keyboard, which generally does screen refresh. But Matte said the company name has nothing to do with PCs. The company's co-founders chose it on a whim after watching the movie "Twister," where F5 referred to the highest category tornado.
For a company that touts network reliability, the association is something you need to "contextualize" carefully, Matte admitted with a sheepish grin. On the other hand, even in the worst storm, F5 Networks is there to help companies keep their business going.
"We can always say, 'Hey, at least the network stayed up!'" he joked.