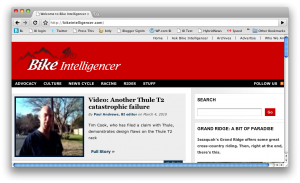 BikeRumor has a post reviewing new features, including improved 29er capability, for Thule's T2 rear hitch platform bike rack. All well and good, except the post states Thule has had "virtually no customer complaints" on the T2.
As we've documented repeatedly in our campaign for a recall of the T2, numerous customers have had issues, including catastrophic failures, with the rack. Heck, we're customers ourselves, and we've complained.
Our links are below. Bottom line remains that Thule is a good company with a faulty and potentially hazardous product that with a couple of fixes could be far safer.
[Coda: Noting that Thule now includes core locks on the ratchet arms, we've also pointed out that all you have to do to defeat this "safety feature" is deflate the front tire!]
Video of catastrophic failure.
Customer concerns recorded and full review.