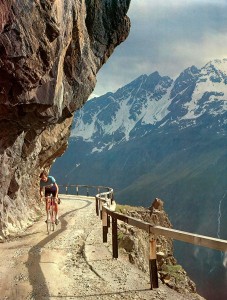 When I was a young endurance racer in the '70s, a Palo Alto Bicycles poster summed up for me the epitome of road riding. It showed the long, lean, solitary figure of local wheelbuilding guru Jobst Brandt climbing up Gavia Pass in the Italian Alps. Bicycling didn't get any better than that then, and it doesn't to this day.
Today's penultimate stage of the 2010 Giro d'Italia was highlighted by the legendary Passo di Gavia, this year's edition's highest point. The 20th stage packed nearly 20,000 feet of elevation gain (over five climbs) into just 110 miles of riding. While none of the stretches was particularly steep by this year's Giro standards, that's a lot of stomping on the pedals.
For us mere mortals, consider some comparisons:
The Markleeville Death Ride, considered the gold standard of California (and by extension U.S.) endurance tests, has "only" 15,000 feet of gain over a longer route — 129 miles.
The Terrible Two through the tough rolling country around Santa Rosa features 16,500 feet of climbing — but that's over a course of 200 miles.
The Son of Death Ride near Los Angeles, billed as the "toughest one-day road ride in the U.S.," features 17,000 feet of climbing over 138 miles.
These are as brutal as endurance races get, and they can't touch the suffering inflicted by today's Giro stage.
For all that, the racing was not as dramatic as yesterday's stage. Only Cadel Evans mounted a serious attack, and it was too late (over the final climb) to matter. Through most of the course, the leaders seemed content to concede the overall victory to Ivan Basso, who rode inspiringly and convincingly to take the pink jersey yesterday.
So the 2010 Giro is pretty much over, and those of us following it day-by-day on Universal Sports via its (and Italian televison's) live coverage have to feel a twinge of regret. In terms of pure racing drama, head-shaking unpredictability and climactic twists and turns, this year's Giro ranks among the great Grand Tours of all time. It didn't have Lance (who will end his career never having won a Giro) or Alberto Contador, who won it two years ago. But the other big names were there, and the action was nonpareil.
The Giro will be a tough act to follow for this year's Tour de France, beginning July 3. Let's hope the Giro's challenges have put its contenders — Basso, Cadel Evans, Alexander Vinokourov, Carlos Sastre — into peak form to challenge Contador and the others in the Tour, making a real race out of another Grand Tour.