The Puget Sound region's first official trail-based* mountain bike park opened yesterday with an appropriate mud fest, as heavy rains battered the Issaquah area hours before the ribbon-cutting ceremony with King County Executive Dow Constantine.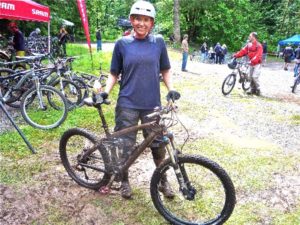 The 120-acre Duthie Hill Park has more than five miles of trails comprising everything from beginners' "boot camp" routes and features to full-on jumps, catwalks, drops and stunts of mini–Whistler proportions. About 300 riders, officials and mtbers were on hand to hear speakers praise the partnership between the county and Evergreen Mountain Bike Alliance that got the park to happen starting in 2004.
The crowd cheered and applauded every mention of Duthie's icons — from trailbuilding wizard Mike Westra to chief instigator Justin Vander Pol to Evergreen's current president, Glenn Glover, and King County's program manager Butch Lovelace — as well as King County officials and volunteers who put in something like 8,000 hours and $100,000 in sweat equity. Evergreen also raised some $30,000 through the sale of engraved tiles, installed on a concrete wall at the trail hub.
Despite its mud-splattered inauguration, Duthie Hill stayed in better than might be expected shape as riders of every size and skill toured the trails — a testament to trail construction, routing and drainage. A few days of warmer and drier weather will restore them back to primo tackiness.
More than one speaker commented on how many kids have been coming to the park — a great resource for area youth. "On some days I see more kids than adults," Westra pointed out. "They love it out here."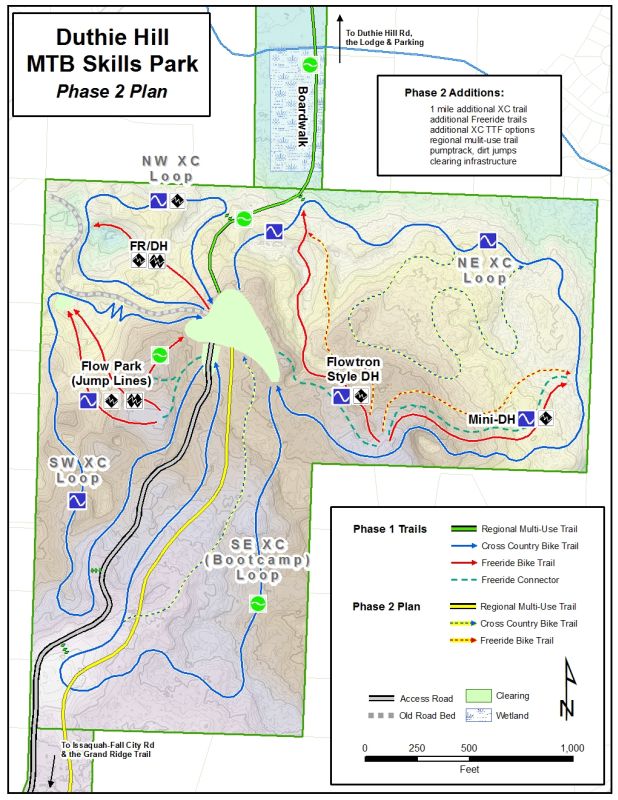 There's more to come, with a Phase 2 about to kick in, but for now Duthie Hill stands as a model of public-private cooperation in the ongoing efforts to increase mountain bike access to public lands.
*[We're hedging a bit here because Colonnade also is referred to as a mountain bike park, but is actually more of a stunt park.]
Tacoma News Tribune story.