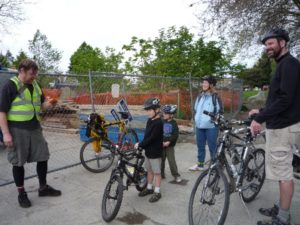 Bike Month is here! Spokespeople helped kick off festivities on May Day with a ride along the ship canal from Wallingford to the Ballard locks and beyond.
Bicycle Sundays are back!
The Group Health (Bike) Commute Challenge is back!
The Green Bicycle project is rolling!
Bike Bloggers are back at it! There are a lot of bike bloggers in Seattle and we've decided to pool our resources. A new Google group is coming and we'll be aggregating posts on topical issues of the day … keep an eye out!