No one's getting rich at it, but a handful of Seattle area cycling aficionados have made a nice little business out of bike flipping.
They pick up used and typically inoperable bikes at yard sales, auctions or on Craigslist, fix them up with a replaced part or two and a little TLC, then turn around and sell them either with an ad or by word of mouth. For a few dollars and a couple hours of work they can make anywhere from $60 to $150 per bike, sometimes more. And because flipping isn't their primary occupation and they love to work on bikes, that's plenty.
For example : A neighbor told a bike flipper he could have an early-1980s Univega touring bike that someone had tried to steal and tossed into some bushes. The flipper installed new tubes and tires and a used saddle and sold it on Craigslist. A $60 investment, $200 sale, $140 profit.
Divide by four hours of labor and he was making $35 an hour. Not great, but not terrible either.
"You have to invest way too much time to make it a real business," said the flipper, Jeff, who clears about $1,000 a year.
(Like other flippers interviewed for this story, Jeff asked that his last name not be used. Apparently flippers are a shy lot and don't like or need publicity. As one put it, "I like to work at my own pace and don't want a lot of people calling with bikes to unload or to fix up.")
Nine times out of 10, all that's required is a little chain lube and cable adjustments — maybe a couple of hours of work. A self-taught mechanic, Jeff has had as many as six bikes in his basement and could take on more work, but has a full-time job in IT downtown and wants to keep flipping fun.
"If I didn't enjoy it, I wouldn't do it," he said. Plus "it helps finance my summer fun and adventures."
For used shops like Recycled Cycles, a flipper represents both client and competition. Flippers use the shops to buy used components for fixing up bikes. But they also sell bikes which otherwise might make their way to the shops.
At Recycled Cycles in the University District, owner Steve Donahue isn't concerned. Recycled's customers often want to trade in used bikes for credit. And those buying used bikes want the reputation and 30-day warranty of an established enterprise.
"We're not paying a lot for bikes coming through the door," Donahue said. To sell a bike for $125, Recycled will look to spend only $40. For a shop to rely on flipping as a primary business, the margins simply aren't there.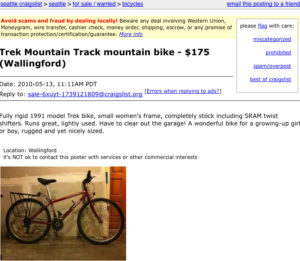 Flippers say maybe a dozen or two of them are out there, trolling the used market for good stuff at garage sales, swap meets, auctions. On Craigslist they can be easy to spot, using the same contact numbers and backdrop for photos. Some have as many as a dozen ads going at once.
Stan, a veteran Craigslist flipper in Fremont, restores as many as a dozen bikes a month, everything from basic mountain bikes to vintage road bikes. He got into the business through an interest in collectibles. At various sales he noticed "a lot of bikes available, and a high demand for them."
Stan rents shop space in Ballard and has found eBay a useful outlet in addition to Craigslist. A former print-shop operator, he's gained a sharp eye for what will sell at a given price. Young professionals will pay more but primarily want high-end restored bikes. Twenty-somethings like a classic look but tend to go more for a bike they can knock around.
Stan won't discuss how much he makes in aggregate or per bike. But he won't go below $100, and his highest sale was $850.
One might assume that the down economy is aiding flippers' business. They typically can sell a bike in good condition for half or less than a comparable new bike. But experienced flippers say business is steady through thick and thin, the variable being more seasonal. By the time spring rolls around, the used market dries up. People decide they'd rather hold onto the bike and ride it — at least till the following fall, when it becomes an albatross again.
In any case, flippers don't consider their pursuit simply in economic terms. The more people out riding on bikes, the better off society is, said Jeff: "You can make a small amount of money, but I do it mostly just to further the cause of cycling."