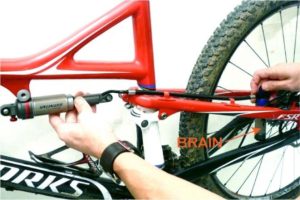 The Consumer Product Safety Commission just announced a Toyota-like recall of about 1,350 Specialized Epic and Era 2010 mountain bikes.
Most bike recalls involve cheeseball or marginal brands that use cheap componentry. But Specialized Epics are at the top of the food chain, used by racers and cross-country riders all over the world. The bikes have consistently gotten good reviews, and Specialized's name is one of the most trusted in the industry.
Epics aren't cheap, either. Top-of-the-line models run $4,000 to $6,000 or more.
The dry description of the recall belies the dangerous nature of the failure: "The shock absorber mount can break and the shock absorber can make contact with the wheel spokes, posing a fall hazard to the rider."
Wouldn't you love to be going down a steep switchback, negotiating a Moab outcropping or grinding over a rock garden and have the shock pop free. "Fall hazard" doesn't begin to describe the potential here.
Interestingly, the CPSC announcement says no injuries have been reported. For the company to conduct a recall, that must mean someone or ones reported some pretty dramatic near-misses.
A call into the Specialized hotline went into vapor lock, but we'll keep trying.