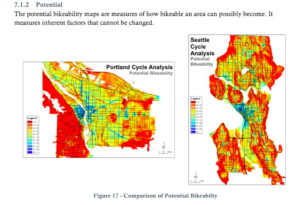 When it comes to bike friendliness, Seattle's hills put us at a distinct disadvantage to our cycling sister city of Portland. We might have a bike culture as strong as anywhere, and a biking population as dedicated as any city's. But our hills will always hurt us, particularly in a head-to-head comparison with Portland.
That's the impression one gets from a penetrating new study by Adam Bejan Parast, who compared the two cities' street connectivity, bike facilities, land use, slope and "barriers" (to biking based on weighting primary and secondary arterials). The end result contains some "intuition-based, subjective scores and weights," Parast acknowledges. But his conclusions also seem to mesh with the experience of anyone who has ridden extensively in both cities.
Parast, who writes for Seattle Transit Blog and is finishing a masters degree in transportation engineering from the University of Washington, conducted the study for an advanced GIS course. He found that Portland's downtown core is far friendlier to bikes, largely due to less congestion and more bike accommodation (besides being flatter). Portland overall is far "more uniform" in its bikeability, where Seattle has "islands" of bike-friendliness within "urban villages" — i.e., business-residential hubs.
So where you can ride all over Portland and feel generally comfortable by bike, in Seattle you're more likely to achieve a relative comfort level within districts but not between them. Riding in Ballard or Wallingford or a comparable neighborhood district might feel fine. But try to get between them — from downtown to, say, Capitol Hill — and you're in less welcoming territory.
"The factors that contribute to a bikeable city are dense urban environments with a large number of people within biking distance of the destination they want to go to, a connected and high-quality non-motorized transportation network, comfortable and safe bicycle facilities separated in some way from vehicles when vehicles are present in high volumes or at high speeds, and more or less level terrain," Parast advises.
European cities possess most of the criteria; Seattle and many U.S. cities don't, Parast points out. But Portland clearly is further along.
Noting that the Rose City has "spent significant resources over the last few decades on bicycle facilities" such as bike lanes, boulevards, multi-use paths and other street designations, Parast observes that "Seattle in contrast has only recently started" infrastructure investment. And most of what Seattle has done consists of sharrows — painted arrows-and-cyclist figures on streets, amounting to a half-a-loaf accommodation of bikes on busy streets.
Parast applied the five criteria for bikeability on the cities' grids using a micro-analysis of 25-by-25 foot sections. The data were then mapped to each city, with color coding for ease of reference. The maps show Portland far ahead of Seattle downtown, with Seattle faring slightly better in the neighborhoods (but still trailing Portland). In particular Portland offers far more extensive multi-use paths available to cyclists. Seattle scores well only where the Burke-Gilman Trail, Elliott Bay Trail, Seward Park road and a couple of other paths welcome bike traffic.
Perhaps the most sobering conclusion of Parast's analysis is that Portland's potential for bikeability also far outstrips Seattle's.
"Both cities could have bikeable downtowns," Parast notes. But "outside of the central areas, Portland has a much larger potential than Seattle." While both cities' neighborhood centers possess comparable bikeability, "the difference comes in areas outside of these centers, mostly in single-family neighborhoods." Portland's neighborhoods "are still fairly bikeable," while Seattle's are less so.
There are ways for bike planners to skirt the hills issue, Parast notes. One is to devote more attention and development to bike-concentrated use between hills, rather than blanket the entire city with facilities the way much flatter Portland does. Another is to emphasize workarounds:
"Two good examples of this are Eastlake and Westlake when traveling north or south," Parast notes. "While streets in these neighborhoods are not flat, they certainly aren't as bad as would be expected from the slope map."
Parast hedges his bets on a number of points, noting the subjective nature of much of the data and a flaw in the "barriers" evaluation.
But having ridden extensively in both cities over the years, several times on the same day (i.e., STP), we find little to disagree with in Parast's analysis. We may actually prefer to ride in Seattle over Portland — partly because the topography is more interesting, partly because Portland's blocks are so small it's often easier to walk from place to place, and partly because we actually like hills. But our sanity has been challenged on enough occasions by non-cycling friends (even Parast notes that "any bicyclist knows that climbing hills is not enjoyable") that we'd have to go along with the notion that, to the typical cyclist, Seattle looks a lot more arduous and dangerous than Portland.
That doesn't mean we can't regain the No. 1 ranking for best city to ride, or at least leap ahead of Portland in the standings. But it will be — so to speak — an uphill battle.
A .pdf of Parast's full study, including maps, can be found here.
DrunkCyclist weighs in on Seattle v. Portland.