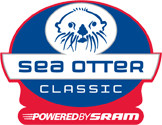 It's the Sea Otter Classic's 20th anniversary!
Seattle native and slalom champion Jill Kintner will be there on her new ride. Jill will be out to avenge her narrow loss last year, and won't be making this mistake:
One thing undoubtedly contributed: Not having been pressed all day, she may have been playing it too cautious, counting as much on something going wrong for Buhl as seizing the opportunity to put down the hammer from the start.
You'll be able to see Jill aboard her spankin' new Transition Double at the Sea Otter Classic next weekend in Monterey. (Race schedule here.)
This is quite an upgrade from the old Double.
For mutual moral support, there's an all-girls mountain bike program.
Banshee Bikes, which is busting out with upgrades and new bikes in 2010, also will be there with its new Spitfire.