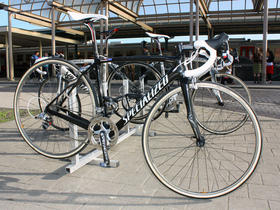 BikeRadar is all over the equipment angle on Fabian Cancellara's win on the brutal cobblestones of Paris-Roubaix 2010 (results here). Cancellara's Specialized ride seems to have found the sweet spot between rigidity and compliance, using slacker angles, fatter tubing, wider tires and patented elastomer ("chewing gum") inserts for damping while not overly mushing things up.
Interesting that Specialized is a mountain bike company that crossed over into road rather than the other way around, and it still brings an mtb orientation to the table. Experiments have been done over the years on the optimum setup for cobbled pavement in general, and P-R in particular, showing the detriments of traditional rigid and steep road technology. Yet telescoping suspension with actual travel apparently offers too much efficiency loss.
Undoubtedly bike tech will continue to refine along Specialized's clever tweaks (putting the elastomers mid-stay was counter-intuitive but pretty smart). But until all the leaders ride the same bike, we'll inevitably wonder: Was it the rider or the bike?