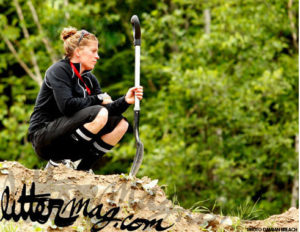 In recent races Seattle native Jill Kintner's name has shown up on the women's downhill roster as well as her signature event, the dual slalom.
We've suggested this means Jill may be looking for bigger vistas. Jill herself won't confirm or deny the extent of her downhill ambitions, although in a new blog post she suggests she's seriously pursuing DH.
And there it was again, at the Sea Otter Classic. After wearing out the field in the dual slalom and taking home the gold, Jill threw in her lot with the downhillers the following day.
The result was quite respectable: Sixth, about 5 seconds off the smoking hot pace of Melissa Buhl. Interestingly, Buhly had an off day in the dual slalom, at fourth, after narrowly beating Jill in last year's Sea Otter slalom matchup.
More significant from our perspective was the fact that Jill finished ahead of some real high rollers, including Fionn Griffiths, Kathy Pruitt and Katie Holden. And she was just a hair off the paces of Sabrina Jonnier and the ageless wonder, Leigh Donovan.
These results translate simply into one factor: Experience. Jill has been honing her downhill skills under the tutelage of Aussie boyfriend Bryn Atkinson, a world class downhiller himself. If she can get more downhill racing under her belt, there's no reason she can't contend for World Cup titles.
Why bother with downhill at all, when you're so good at dual slalom? Any champion wants to push her envelope and keep testing herself. Having medaled in the Olympics in BMX, Jill is pretty much the gold standard in dual slalom. And in the competitive arena, downhill racing is still the ultimate challenge. The downhillers get all the glory — disproportionately so, perhaps, but deserved as well.
The only question is whether downhill could hurt Jill's campaign for the world title in dual slalom this year. You don't find someone at No. 1 in both disciplines at the same time, for a variety of reasons starting with, as Jill acknowledged to Brett Tippie (scroll down for video interview), being too whupped winning the slalom to face a second day of racing.
But the one quality you have to love with Jill is she really believes anything is possible. You can see the steely determination when she rides — it translates from her body language right through the goggles and jump suit. And any interview I've seen with her shows an uncommon resolve to follow through on her goals.
Kintner may at this point be undecided about pursuing downhill. It's still early in the season. But we'd sure love to see her rock in the Big Dance!

Full race results.
Mountain Bike Action recap.