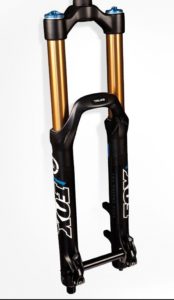 Just in time for Sea Otter, Fox has released a new lineup of 180mm single-crown Fox 36 forks. Hmmm. We'll have to test one of these of course, but first impression is a bit of a head-scratcher. Surely double-crown at that amount of travel is still stiffer, albeit heavier. The new config appears aimed at the Whistler/freeride crowd, but what we're seeing on the ground, er, in the dirt, is a preference for shorter travel. As riders' skills improve and stunts require more bike maneuverability than full-on suss, shorter forks and tighter frames are showing up at the parks. But we'll see.
The easiest explanation, of course, is that Fox always exaggerates the amount of travel, and what we're really looking at is a class of extra-long 160mm forks. Really, it's pretty blatant and widely disparaged by wrenches, well-known in industry circles but shrugged off. As the owner of no fewer than a dozen Fox forks over the years, we've yet to see one fulfill its specs. We think Fox otherwise makes great products that they back fully. Fox should take care of this before someone files a class-action suit claiming misrepresentation.
Fox also is issuing new 150mm and 160mm lines boasting lighter specs and more trail-ride (rather than big-hit) suspension tech. The message here is that the long-travel trail crowd is jonesing for lighter, quicker configurations. Till now that's meant reducing travel options, but perhaps the lighter weights on the new Fox offerings will keep the slopestylers in the LT category.