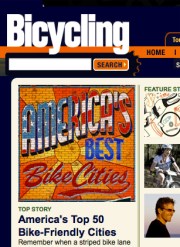 In Bike Intelligencer's newly released ranking of the Top 10 American cycling magazines, Bicycling magazine has placed 11th.
"This is a remarkable showing, given that there aren't actually 10 American cycling magazines in existence," said BI editor Paul Andrews.
The magazine jumped in the standings from 15th two years ago, largely as a result of four cycling magazines going out of business.
"The fact that Bicycling is still around shows its resiliency and staying power in a difficult publishing market," Andrews said. "In an increasingly digital age, Bicycling continues to arrive month after month in the mailboxes of dead people whose subscriptions have yet to expire."
Published by one of the most respected names in publishing, Bicycling is often called the bible of the cycling industry.
"That's not just because it's stuffy and dull," Andrews said. "It's also because it's widely quoted by people who have never read it."
Asked how Bicycling can improve on its showing in future rankings, Andrews said, "It might consider using people who ride bikes in its photos instead of agency models. Oh and no more running the same stories about the perfect spring training regimen and best energy drinks over and over."
For the editors of Bicycling, the word 'edge' has "only one meaning," Andrews said. "The side of a piece of paper."
Release of the BI rankings coincides with Bicycling's ratings of the Top 50 American cities for cycling, in which BI's home town of Seattle placed fourth.
"As with Bicycling's ratings, BI's results were compiled by our crack team of investigative rankers," Andrews said. "We considered an exhaustive list of factors, including layout, number of similes, smell, variety of fonts and type of ink."
Bicycling's relegation of former No. 1 Seattle to the also-rans in its survey received "only passing consideration," Andrews added.
Finishing ahead of Bicycling in the rankings were:
BIKE
Mountain Bike Action
Bicycle Times
Momentum
Tricycle World
Cargo Bike Action
Meals on Wheels Gazette
Folder Bike Action
Hub Maintenance Review
Pneumatic Quarterly