Had H. G. Wells ever met the Magic twins, he would undoubtedly have amended his famous saying, "When I see an adult riding a bicycle, I do not despair for the future of the human race."
At 10, the twins are only half way to adulthood. But they're already old hands at riding bikes, having started at age three on tot cycles. The future of civilization may be even more in doubt today than in Wells' time, but a few moments with these cycling sprites erases the concept of despair from anyone's lexicon.
"We ride our bikes everywhere — everywhere," insists bubbly long-legged Hilary, who is growing so fast her sleeves reveal plenty of wrist, and her pants look like hybrid knickers. She and sister Jen have, their parents calculate, traveled more than 20,000 miles by bike in their relatively short lifespans. And by car? Less than 3,000 miles.
Put that in your carbon footprint calculator and crunch it.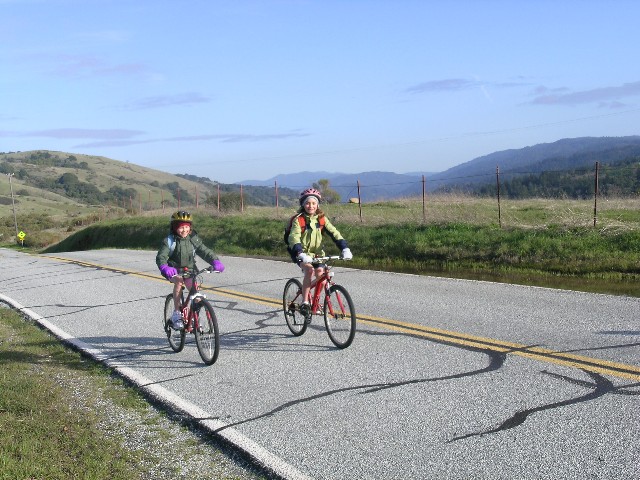 Hilary and Jen Bayer live at Magic, an ecologically focused intentional community in Palo Alto CA. They have done pretty much all of the signature San Francisco Bay rides over the years. They've ridden up Page Mill and Old La Honda and King's Mountain roads over the Santa Cruz mountains to the ocean and back via Tunitas Creek. They've cycled to Point Reyes (after taking the train to the city). They've been up Mt. Hamilton and around Mt. Tamalpais. They've ridden from Palo Alto to Sausalito, which Hilary recalls as "an awful lot of busy streets."
Many of these rides are in the 60-mile category, with 2,000 to 4,000 feet of climbing. They're a tall order for an adult in fit condition. For subteens, they're normally out of the question.
Perhaps the most stunning notch in their belts is Lake Tahoe in a day — a punishing 72 miles of undulating, relentless terrain. When they were 7.
"It wasn't that big of a deal," says Jen, who compensates for being a head shorter than Hilary by calling her a beanpole.
The girls were introduced to cycling by their dad, David Schrom, a social visionary with a law degree from Yale who co-founded Magic in 1972. Magic is itself a story in hope and inspiration. Operating as a non-profit, it houses a dozen folks committed to an ecologically informed way of doing things. Which is to say they don't just talk a good game. Most of Magic's food is day-old or blemished fruit, veggies and other foodstuffs from local supermarkets which otherwise would consign it to the rubbish bin. Dinners are communal and consist of a big bowl piled with various mega-healthy grains, greens and garnishments from a stove and counters. Clothing is recycled or, in the case of the kids, hand-me downs. There are gardens and dances and talks and slide shows from outsiders doing interesting things, like the Dancing Rabbit Ecovillage in Missouri whose founder happened to be passing through on a recent evening.
In the philosophical matrix of Magic, the bicycle is as vital an underpinning as organic food and composted waste. If you consider the bicycle to be a touchstone of inspiration for contemporary culture, you're on the way to appreciating what Magic is all about.
When the girls were 3 and on tot cycles, Schrom ran with them across Palo Alto into the Stanford foothills and beyond, up Alpine Road, then John Marthens Lane and back via Arastradero Regional Preserve. Total distance: give or take 15 miles, very little of it flat. On 15-inch wheels.
"Their little legs were going so fast!" Schrom recalls. He remembers a woman runner friend encountering them about 6 miles out and asking off-handedly where they had started. "At home," Schrom answered. Her jaw dropped and all she could say was a stunned, "Oh….!"
"A typical day for them is at least 10 miles on the bikes," he says. Piano lessons, a visit to a friend's house, a run to the store. At least once a week the family goes for a long two-to-three hour leg-stretcher up one of the cardiac climbs out of Portola Valley.
To put all this in perspective, consider times you've ridden with youngsters of any age. As eager as kids might be, they typically lack the strength and stamina for all-day epics. It's no fault of theirs — their bodies just haven't matured enough aerobically or structurally.
The twins seem cut from a different cloth. They're strong and fast and never complain. They're grinning and laughing and joking, even grinding up endless inclines.
"We'll ride over the mountains to the beach, and then they'll go racing around on the sand for hours," says their mother, Robin Bayer, who has the distinction of receiving the Terman Prize for engineering with a civil engineering degree from Stanford. "Meanwhile, the adults have collapsed in exhaustion."
Today the girls ride children's Specialized mountain-bike frames with 24-inch wheels. One was given to them used, the other they picked up from Craigslist. They replaced knobbies with semi-slicks, but otherwise the bikes are stock. Hilary has already outgrown her frame, with Jen close behind. Their parents think it will be one more interim sizing before they can ride adult bikes. But the next generation probably will have skinny road tires.
"Dad says he's gonna get me a 650 road bike," announces Hilary.
"That's not fair!" Jen protests. "You'll be faster than me!"
"I'm bigger than you!"
(Sudden commotion as the two jump up to stand shoulder-to-shoulder — only to irrefutably confirm Hilary's declaration.)
"It still isn't fair!" Jen complains.
While Hilary and Jen love to ride, one gets the impression they see bikes as transportation tools more than objects of mystique. They hop on their bikes the way other kids jump into soccer mom SUVs. If they need to get somewhere, it's by bike. A car doesn't enter the equation.
Their car miles have accumulated on away-from-home trips to the Sierra — Tahoe and Yosemite — and visits to grandparents in Nevada. One gets the impression that if cars didn't exist, the Magicians would simply get there by bike camping.
So far they've been fortunate to keep the rubber side down. No scrapes with cars. A few tumbles here and there — some scratches and torn clothing. But that's unsurprising, given their flair for the impulsive. Such as in the fall, when residents rake leaves in mounds for collection.
"I used to wait for days till right before the street sweeper came so I could wipe out in the piles of leaves!" Hilary exclaims.
And:
"In Arastradero (Park) there was big hill we would ride down part way, then crash off it into the grass. We'd laugh and laugh and ride back up to the top of the hill to do it all over again."
So far, despite their athleticism, things like racing aren't on the girls' radar. Their parents seem more interested in watching the twins' lives unfold than in trying to guide them.
"They could be Wall Street brokers, they could be bike racers," Robin says. "It will be fun to watch where their lives take them."
Seeing Hilary and Jen crank it up along Old Page Mill alongside the Stanford hills, one cannot help think that whatever path they choose, it will be ridden. And whatever their future holds, it will preclude despair for the human race.
At one point their father thanked me for writing about the girls. "It's tremendously encouraging and reinforcing for them," he said.
Even moreso, the other way around.