The success of the recent Seattle Bike Expo raises the question for the region's mountain-biking community: Has the time come for a mountain bike festival in the Seattle area?
Now before the protest mail from the good people at Cascade Bicycle Club starts flowing in, we're happy to acknowledge that Bike Expo includes mountain biking as well as road.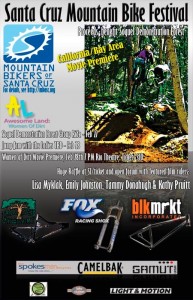 But everyone knows that road dominates Expo. Newly named interim director of Evergreen Mountain Bike Alliance, Glenn Glover, noted recently the blank stares he got from way too many Expo-goers at the EMBA booth — even from mountain bikers.
The reason? First was context. Surrounded by roadie booths, demos, personalities and lycra, even mountain bikers weren't expecting to find an mtb advocacy group in the mix.
Second is emphasis. A glance at the list of exhibitors this year — a record number, btw — shows only a handful of mtb-focused vendors. Missing were some of the hottest names in mountain biking circles, Evil Bikes, Obtainium, Transition. Even IMBA, a mainstay at mountain biking fests, was not on the list.
It's true, as Glenn pointed out, that Evergreen can do much more to promote its image in the mtb community. But that could be Argument No. 1 for hosting a local mountain bike show.
Bike Expo aside, has not the time come for something along the lines of a Sea Otter North (Sea Wetter?), or Fruita West, Crankworx South (Dankworx?) or even Bike & Brew (Leavenworth) on the wet side of the state? Seattle deserves a signature mountain bike event to call its own.
Visiting in northern California we recently had the good fortune to attend the first Santa Cruz Mountain Bike Festival, a two-day event highlighted by an in-town jump jam and the California premiere of "Women of Dirt" (which premiered worldwide in Seattle earlier in February). Although unseasonably wet and cold weather forced cancellation of a big group ride, the event packed Santa Cruz's Rio Theater and, despite inevitable glitches with a first-time venture, was a roaring success.
Mark Davidson, President of sponsoring Mountain Bikers of Santa Cruz, said the festival galvanized the cycling community in Santa Cruz — a significant accomplishment given the seaside city's bigger reputation for surfing — and has led to a number of unsolicited "we want to be part of this next year" queries from major bike names. His group will have an Interbike representative this fall to solicit sponsors and raise awareness in the festival, and at least one internationally known mountain bike manufacturer is knocking on its door.
Davidson does not minimize the huge challenges associated with staging a festival. Months of organizing, mounds of communication and hour upon hour of meetings and phone calls and emails are required to pull the thing off right.
But the rewards are not only commensurate, Mark noted, they go beyond the organization and event itself to permeate the community at large.
Ironically, cycling in Santa Cruz is still kind of 'underground' as a mainstream activity, despite the huge number of enthusiasts and a vibrant bike industry. People who are cyclists know that Santa Cruz is a mecca, but non-cyclists are not aware (i.e., Chamber of Commerce, tourism/visitors center, local paper).
The Amgen "Tour of California" is helping to raise awareness. So did the mountain bike fest.
The current (March 2010) issue of BIKE magazine, in a page-long feature, "7 Reasons Why You Should Host Your Own Event," notes "it's an effective economic stimulus" and cultural catalyst:
Greg Williams, one of the Downieville Downhill race's founders, says that the weekend of that race is 'the biggest for restaurants and grocery stores in the area by far for the whole year.'
There's potential payoff for bike vendors as well. It's starting to dawn on the industry that if it's going to keep selling its wares, it had better get behind building new places to ride. The style of riding preferred particularly by younger riders — bike park, jump jam, pump track and other more structured, less open-country — needs bikes designed for specific purposes. That's a huge market potential — but only if the places to ride exist.
The new generation of dirt boyz n grrrlz deserves an event to call their own. At the Santa Cruz fest I noticed how across-the-board the age group was. And in fact it was a great family event, with freeride groms and their parents alike eating it all up.
The explosion of freeriding in Seattle environs deserves a special gathering to coalesce its energy and enthusiasm. A local mtb festival would be just the ticket.