[Editor's note: Out of town and unable to attend Seattle Bike Expo 2010, we asked colleague Jim Lyon, a veteran Expo attendee, to be our eyes, ears and buttocks at this year's show (well…you have to sit on something when you ride to Expo). Herewith is Jim's characteristically pithy report.]
After last year's sad Deluge Debacle at Magnuson Park — in the same warehouse as the Bike Swap, with a circus tent city out back and pouring rain coming in sideways under the skirting — this year was a serious upgrade.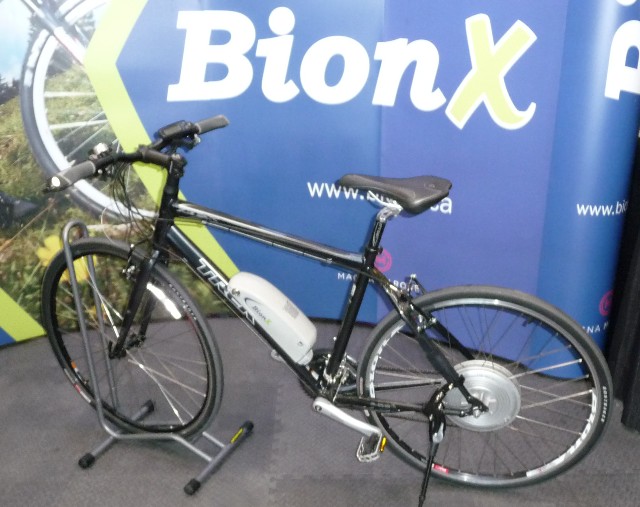 Pier 91, hiding under the Magnolia Bridge, was a spacious replacement, with more than enough room for all the exhibitors and patrons. The pilgrimage was so long from the $5 parking on the north side of the bridge that they were actually running shuttle buses ferrying people back and forth. As usual, the smart ones avoided the hassle and rode their bikes.
There was a serious dearth of high-ticket bikes on display, but in their place was a generous helping of simple bikes made for moving people around town. Every company had a strong sampling of simple, practical bikes filling the majority of their display space with a couple carbon wonders thrown in for eye candy.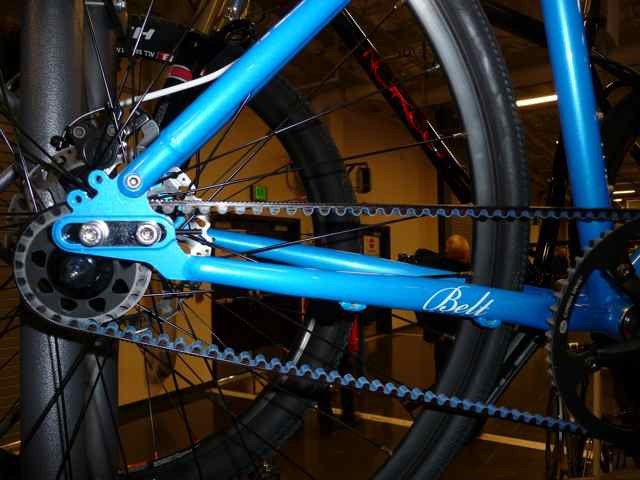 The Portland Independent Bike Builders were there in force with an entire row on display. Former Seattle stalwart Ti Cycles, now based in Portland, said they have been selling more bikes than they can produce — there is definitely a heartbeat in the independent bike market.
There were also more bike lifestyle booths than I remember, hawking all things bike from impractical canvas shoulder bags to one booth called Hub and Spoke that had an assortment of all kinds of bike trinkets. There were also more electronic bikes on display than I remember.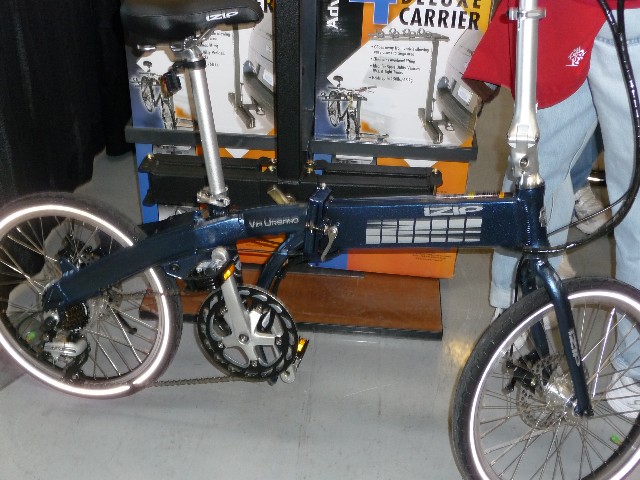 There were even more fund-raising rides to sign up for ranging from a local arts organization sponsoring a ride to North Bend, to a 4-day event circling the San Juan Mountains of southwest Colorado raising money for a peace center in Dolores, CO.
Whitehorse in the Yukon looked like they are following their brethren in B.C. and creating networks of trails just outside of town. One guy from Boreale Mountain Biking in Whitehorse claimed they had over 500 miles of trails near town.
For entertainment there was a trio of stunt riders from Germany doing unbelievable stuff like standing on the handlebars with another guy standing on his shoulders. And of course Ryan Leech was there to humble the mountain bikers.
Most interesting entry award probably goes to a Quebec company called BionX that was marketing a light-weight electronic retro-fit system for any bike. It recharges from the motion of the turning wheel. The lighter version weighs in at only ten pounds. If you were interested in a bit of help up those long hills this was the best system I've seen.
By the time I left the Expo at 12:30 on Saturday it was so crowded I could hardly make my way to the door. I left encouraged that the future looks bright in Bikeville.