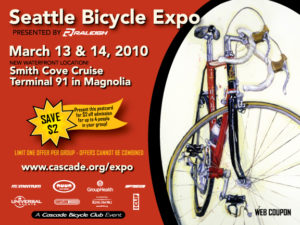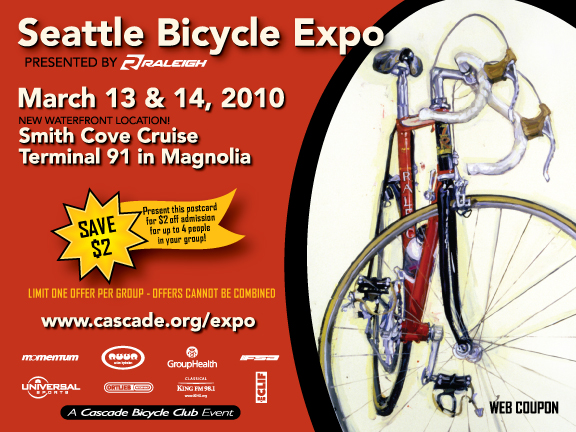 Fresh off record turnouts for the big Seattle Bike Swap and even bigger Chilly Hilly, Cascade Bicycle Club hopes the third event of its season-opening trifecta — the Seattle Bike Expo — will blow off the doors next weekend at a new Magnolia location.
More vendors, more bike events, more parking, more space — "all signs point toward a fantastic turnout," said Peter Verbrugge, events promoter for Cascade. You can get $2 off the entrance price of $10 by clicking here or on the coupon above. You have to pay cash at the door; there will be an ATM on site.
A record show might be counter-intuitive, given the wringer the bike industry went through in 2009. Still, 25 percent boosts in Swap and CH attendance suggest resurgent interest in Seattle's signature bike gathering.
Curiosity alone will draw Bike Expo veterans to the show's new venue. From its early home in Seattle Center's Exhibition Hall to stints at Qwest Center and Magnuson Park hangars, Expo has never found a really comfortable place. Bike booths need elbow room to permit gawking and jawboning. And bike shows need bike events, with the space to ride they imply.
All of which makes this year's location look to be a real winner. It's the Smith Cove Cruise Terminal 91 beneath the Magnolia Bridge. It has two levels. Booth space is carpeted. It's accessible by bike via the Elliott Bay bike path, and bike parking will be provided (a donation is asked to benefit BikeWorks, a worthy cause).
If you have to come by car, you might consider tossing the bike on the rack and parking on a side street. Event parking is plentiful, with 2,500 slots, but costs $5. And then you have to walk or take a bus shuttle half a mile or so to the showroom.
After years of feeling a bit on the cramped side, Bike Expo finally has some breathing room — to wit, 135,000 square feet, or 50,000 more than any past venue. The additional space plus affordable below-market rents made the show a sellout for exhibitors. One might ask why, when the industry took a 25 percent hit in 2009 sales.
"For the money, Expo is a great way to reach the bike constituency in one place over an entire weekend," Verbrugge said. "Vendors realize they still have to market, even in a down economy." [Note: Last-minute cancellations freed up a few booths as of March 4. Potential exhibitors are asked to contact Mike Inocencio by email or 206 522-2403.]
Expo's impressive events lineup will bring out bike fans as well. The docket contains more presentations, including two unique acts this year. Cascade is bringing Ken Taylor of the legendary Jack Taylor bike family to the Expo (he'll talk bikes with Seattle's own Jan Heine, editor of Bicycle Quarterly). And for the first time, you'll be able to see "Artistic Cycling" for real, not just as a YouTube curiosity. Sort of like synchronized swimming only a lot trickier, artistic cycling is a youth cult movement in Europe and Asia. It's hard to believe the kind of stuff these performers pull off; at Expo they should be a show-stopper.
The classic bike collection will be back, courtesy of Bob Freeman's (Elliott Bay Bicycles) yeoman efforts. The Metal Cowboy and Willie Weir will be doing their things, and we've already written about Ryan Leech's high-wire acts of gravity-defying wonder.
The only caveat to Expo's outlook might be the weather, which no doubt juiced attendance at Bike Swap and Chilly Hilly. The forecast calls for traditional Seattle gray and wet. But unlike last year's opening-day downpour, which forced Cascade volunteers to bring out the wet vacs to fight standing water in tent booths, this year it can rain all it wants and show-goers will stay dry indoors.
It all adds up to a must-see event that will be the talk of Seattle cycling for days afterward. Come round or be square!