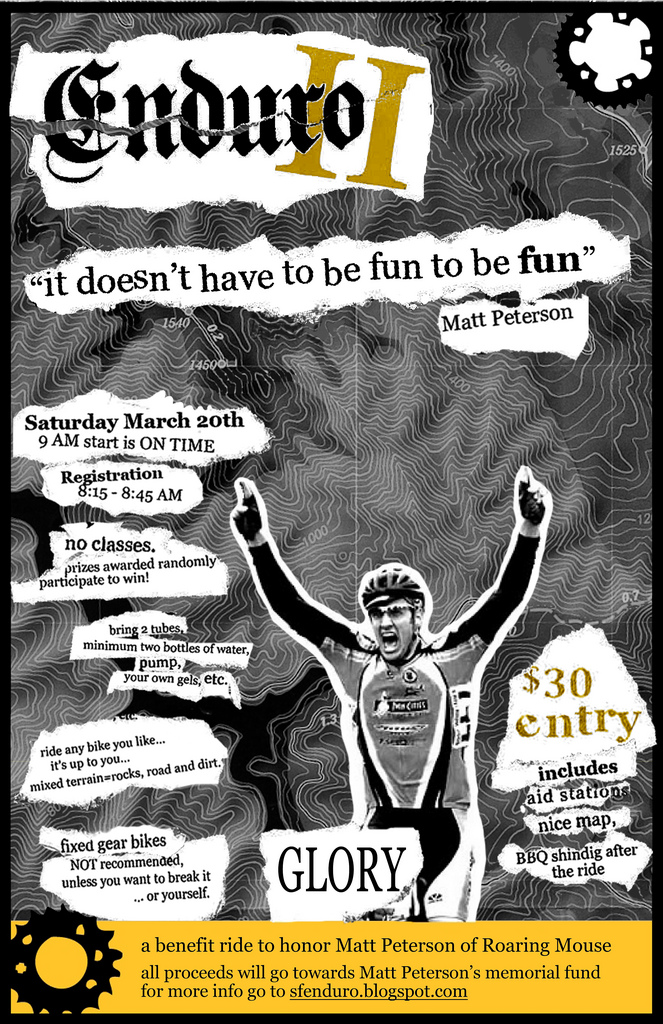 We did not know the late Matt Peterson, killed two years ago cycling in the foothills of Cupertino. But we do know his peeps at Roaring Mouse Cycles in San Francisco (their logo is on our Sponsors sidebar), and they're the greatest. This Saturday's Enduro II ride in Matt's memory is just the kind of right thing to do that makes RM such a respected name in cycling circles.
If instead of San Francisco you happen to be in Seattle on Saturday, don't miss Kidical Mass at Bike Expo. Hope on over to Totcycle and tell 'em what's a good time for ya.
Also GoMeansGo and Baron Bicycles will be hosting a Pedal Party starting at 7 p.m. Saturday after Seattle Bike Expo.
You have to root for Jens Voigt in Paris-Nice, if only because many of us thought the guy was finished after his horrific faceplant in last year's Tour de France. Now word comes he's thinking of hanging it up after this year's Tour.
CozyBeehive has another installment in his continuing series of interviews with wheel-building legend Jobst Brandt.
BikeShopGirl's podcast interview with MTB racing legend Marla Streb is well worth a listen.
I guess if I rode an electric folding bicycle, I'd be going Yike! too…
And the next time you're complaining about a tough climb or bad roadway or whatever, think of Blind Bobby McMullen, who has a new Web site spreading the inspiration.
Twisted Spoke's redesign is done and Matt now has his own URL. Looks rad. Too bad TwistedSpoke.com wasn't available but we all know how that works.