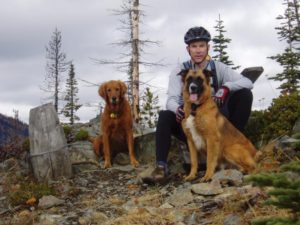 If anyone is well-suited to follow in the tire tracks of Jon Kennedy, it's Glenn Glover. The newly named interim executive director of the Evergreen Mountain Bike Alliance has great credentials qualifying him as the perfect leader for Evergreen to gain greater visibility and influence in the Northwest.
 
It would be hard to find a negative word about Glover among Evergreen regulars. Web master Maarten van Dantzich said he has "a lot of respect for Glenn," with whom he served on Evergreen's board for several years. Glenn "continued Anthony Cree's work to bring more order and process to budgeting and finances," and brings "more continuity than anyone else could have" to the top position.
 
Kennedy himself said he was "thrilled" when Glenn stepped forward as a candidate to succeed him and "could think of no one better to fit the role. Glenn brings an extensive amount of knowledge to the table and has been intimately involved in many facets of the organization. He's someone who on both a professional and personal level, I have a lot of respect for."
 
The feeling is mutual.
 
"Fortunately Jon is a good resource when I need help," Glover said, joking that he's in big trouble if Kennedy starts letting his cries for assistance "go directly to voice mail" or into the spam bucket.
 
A former small-business owner who recently closed his company, Redpoint Communications, specializing in design and manufacture of electronic components, Glenn has the calm air of an experienced decision-maker about him. Serving on Evergreen's board, he gained a reputation as a careful listener and deliberative thinker. 
 
We've done trail work with Glenn on Tiger Mountain and found him to be thoughtful and considerate, with a sly sense of humor. He comes to problem-solving not with preconceived agendas but with an ability to synthesize and reconcile a host of viewpoints as a means to doing the right thing.
 
All of which is to say, he's not going to shake things up.
 
"I don't anticipate any rollout of brand new strategies," he said. "It's more about refining our focus on the strategic direction we have."
 
Top of the agenda: "Growing and communicating our relevance to the community," Glenn says. At last weekend's Seattle Bike Expo 2010, he was sobered by the quizzical looks that passersby gave the Evergreen booth.
 
"There were too many blank expressions, even from mountain bikers," he said. Half of those stopping by had never even heard of the group.
 
Part of that is because Expo is, at heart, a road bike show. But it also says that mountain bikers who otherwise would be appreciative of EMBA's work have not gotten the memo.
 
"Trail access is not granted to us somehow magically," Glenn notes. The question Evergreen needs to pose to the mountain biking community is, "Are you getting involved in supporting your sport?"
 
"Among those new to the sport, there's almost a complacency over having a lot of places to ride. What they may not be seeing is that many of those places have gray trails that are going to get developed." The current mecca of Black Diamond stands to lose at least 15 miles of trail to development from just one development. Griffin Creek and Victor Falls are gone. Only old-timers recall the great riding on Cougar Mt. Other areas are just a parcel sale or two from oblivion.
 
To get the point across, Glover foresees a number of initiatives this year:
 
Topping the list is boosting membership. The club has rebounded from a loss of nearly 200 members as of a year to 18 months ago — from a combination of economic factors and disaffection among the ranks — and is back around the 800 figure. Glover thinks 1,000 by the end of 2010 is realistic, especially given the club's outreach to signature projects around Puget Sound.
 
Signing trail heads and corridors where work is being done with large lettering carrying the organization's name will help as well — something "even riders averting their eyes as they ride by" will see, Glenn said. Anyone who has done trail work knows that passing riders are typically generous with their appreciation; I've often wished I had a sticker I could slap on their jersey as a reminder to give something back.
 
Paradise Valley, Duthie Hill and Colonnade are well-signed already. Glenn sees Black Diamond and Tiger Mountain getting similar attention.
 
Publicity and excitement building around the grand opening of Duthie Hill mountain bike park on May 22 will give the club a real shot in the arm. County executive Dow Constantine, a bike rider and supporter, will be on hand for ribbon-cutting. There will be a jump jam, big raffle, schwag, beer garden and (fingers crossed) barbecue. Duthie Hill is bringing a lot of new local freeride blood into the Evergreen circle.
 
On the cross-country side, Evergreen's work on Hansen Ridge (aka South Fork Snoqualmie) continues apace, and the organization will have prominent visibility in the St. Helens and Kettle Fest gatherings this summer. Evergreen also plays a vital advisory and mentoring role for other mtb organizations, from Portland's Northwest Trail Alliance (formerly PUMP) to WHIMPS, the Galbrath Mt. miracle workers.
 
Education — in this case, teaching newbies to ride dirt — is another prime vector for attracting new membership, Glover notes. Endless Biking out of Vancouver's North Shore will be training the trainers, and Evergreen will be highlighting bootcamps and another learning venues. One series we hope to see return is girls' bootcamp, taking advantage of the boom in women coming to freeride as documented in the film, "Women of Dirt." And partnerships with Kat Sweet freeride and Speedy Beavers DH clinics will continue.
 
There's still some fence-mending to do; not all the org's disaffected are back in the fold, and the club still has not regained the espirt de corps it had in the '90s and early 2000s.
 
But there's a new era of multi-faceted mountain biking upon us that requires more flexibility and breadth not just from Evergreen but from its membership. From a community involvement standpoint, Evergreen is well-positioned to expand mtb opportunities throughout the region.
 
Glenn, who lives in Renton with his mountain biking wife Toni and trail-trained dogs Denali (golden) and Dakota (shepherd), says he's not interested in becoming permanent E.D. but anticipates serving through the end of the year. With his plate piled high, he'll probably welcome the breather by the time his interimship concludes.