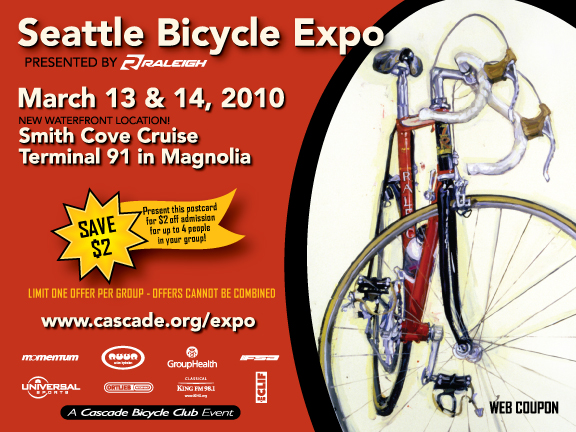 Seattle's signature bike festival this weekend, Bike Expo, is a great place to see the latest gear, check out the bling factor, run into old friends and take in scintillating workshops, presentations and talks.
It's also a great place to shop. Here's how to optimize your dollar, based on our wallet-slimming experience over the years. [Step No. 1: Print out and take the above coupon to save yourself a couple of bucks.]
First off, Expo's spanking new facility at Smith Cove ensures that unlike last year — which was cold, windy and wet — this year will be cold, windy and wet … but only outside. There will be no makeshift tents to leak and no water vacs required to dry up. Show-goers will be able to bask in indoor comfort, with plenty of elbow room this year.
Although it's tempting to go to the exhibitor booths, I head straight for the retailer stalls with lots of stuff to sell. The reason: Great bargains. And the good stuff goes fast. The booths aren't going anywhere and in fact are more fun later in the day as people start mixing it up.
That's why I usually show up at least half an hour before opening. Yeah you have to stand in line in the rain and cold (or maybe not, depending on the configuration of the new venue). But you get to chat with pals, see familiar faces and just plain hang.
My preferred way to go is by bike, of course, and this year there's the added incentive of a $5 parking fee for cars. (Bike parking is more convenient and technically free but your much-appreciated donation goes to benefit BikeWorks, a worthy cause.)
If you're going to do much shopping, though, you should drive to Expo. It's pretty easy to exceed the amount of stuff you can carry on a bike (e.g. a new wheelset).
Before heading to Expo I take time to make up a list of stuff I'd like to buy (you might think about starting it now). Maybe I need a seatpost for a new frame on order. Maybe some jersey or layer garment needs replacing. Or I'm looking for a lightweight wheelset. Going through the list of exhibitors ahead of time can be helpful here and will give you an idea of whom might have what.
A list is necessary because in the heat of the moment at Expo, it's easy to forget an item or two. And if you aren't focused on specific things, you have two downsides: 1) It's easy in the crush to miss something, and 2) You might end up buying something you don't really need.
This last point is critical: You need to acknowledge your inner addict. Core cyclists will buy stuff they don't need, just because they get a great price. In these times of economic hardship, that impulse can mean trouble.
Not that anything has ever stood between us and a great deal.
I'm guessing here, but intuition tells me there will be some pretty good bargains. The continuing recession has forced vendors to be conservative or hold off on 2010 orders till they move 2009 or even older stuff off their shelves.
Watch especially for great clothing deals. In '08 $120 wool jerseys were going for $20 to $40. One year I got three pairs of Sugoi tights for $15 apiece, a price I never expect to see again (the tights are only now showing some signs of wear after five seasons of heavy use).
Unlike last month's Bike Swap, which hopefully did not deplete your entire 2010 bike budget, stuff at Expo is retail grade (if there are seconds, they're marked as such but are new). So you don't have to worry about checking for flaws, etc. And vendors typically take credit cards as well.
Clothing, including shoes, helmets, gloves and whatnot, definitely has the fattest margins for vendors to mark down. But other gear gets discounted as well, especially if 2010 stuff has made it obsolescent.
That's one reason to go to smaller, high-end shops with stalls specializing in pro gear. They're eager to move out the out-of-date stuff and have mark-downs that stagger the imagination.
Here's one tip: Ergon, who makes our favorite backpack ever (note Ergon's logo in the Bike Intelligencer sidebar), will be at Expo with a truckload of stuff, including grips and packs. Ergon has come out with some 2010 models already and is due for a refresh in other lines, so expect stuff to be going at great prices.
You can bargain at Expo. Unlike with the Swap, my policy is not to bother if you're getting a good deal already. Vendors have to make something out of the show, you're supporting (mostly) local businesses, and haggling over a small amount takes time from tracking down other bargains.
Once the shopping is done, you're free to roam the exhibitor booths. Most will also have stuff for sale, but not marked down as much as retailers. The booths are where you network, check out the latest and hottest stuff and grill for more information.
Again, the list of exhibitors provides a nice map. I make a Web site printout of exhibitors and highlight those I most want to see. This ensures against missing a booth you want to check out.
With the new Smith Cove venue, Expo has quite a bit more room to play. I'm guessing things won't seem as cramped as in years past. But whatever the floor action, Expo is a guaranteed fun fest for the velo crowd.
Previous Bike Expo coverage Expo Ready to Rock! Ryan's Leech's golden advocacy